Birding is just another exemplary use of a spotting scope among several others where it bids much better than a casual pair of binoculars. However, finding the best spotting scope for birding can be a hard feat to achieve.
When it comes to birding, what's required of a great spotting scope changes a lot starting from a different magnification range requirement to Porro prism systems that must form brighter and contrast-rich images.
Nonetheless, the zooming capacity that's required can be coined from a spotting scope at a very reasonable price while delivering the necessary result but is that all that you need?
Our reviews of the 5 best spotting scopes for birding in 2022 answer these queries in detail, explaining the features of the top product in the market while weighing their pros & cons as well.
Recommended Spotting Scopes for Birding
Celestron Ultima 80 Angled
Best Pick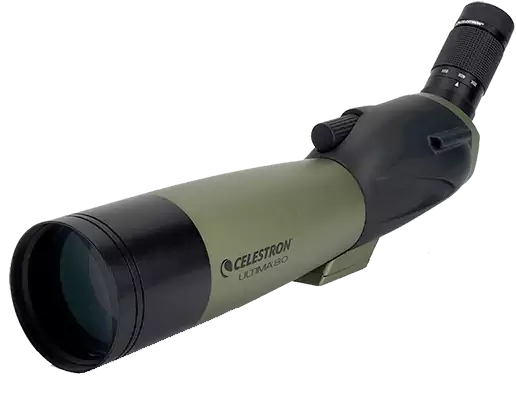 Finding the right balance between an optimal price vs. great features can be difficult. Nonetheless, holding and using Celestron Ultima 80 Angled Spotting Scope for the first time left us with no doubt that this was the best spotting scope for birding.
This spotting scope has an 80mm objective lens with 20x to 80x zooming capability and a 45-degree viewing angle. Moreover, it has got a multi-coated eyepiece that can be utilized for watching birds, hunting, and wildlife sceneries.
Furthermore, the multi-coated lens is known for being anti-reflective, improving the color and contrast of the images you are seeing through it. This also improves the visibility of the images by increasing the brightness and this feature is incorporated within the lens.
Celestron Ultima 80 Angled Spotting Scope eyepiece has some outstanding features. That would include a large focus dial that improves the focus of the images. Even when an object is moving, you can focus it with ease and grace, achieving greater visibility than other products.
Facing varying weather conditions when going out on different ventures is common. Celestron Ultima 80 proves its value for money by bringing a waterproof and sturdy design. This ensures a durable experience without spoiling the experience regardless of the adverse weather circumstances.
As for the lens in these weather circumstances, it is designed to eliminate fog accumulation inside the lenses. With lesser internal fogging, you are going to have a seamless experience. Combined with its ease of use and fast dial, you can view distant objects within seconds.
Besides its performance features, Celestron Ultimate 80 comes with a handful of accessories. The most notable is the T-Mount adapter like you get for DSLRs allowing better handling of the scope. You also get an optional T-ring, however, its use may vary from user to user.
Celestron Ultimate 80 has a durable, waterproof, and fog-proof design. With a fast dial and quality lens, it is great for distance viewing, however, lacks optical quality when it comes to astronomical use. But that is also the reason why we call it our best spotting scope for birding.
Why Should you buy Celestron 80 Ultima Angled Spotting Scope?
A durable waterproof and fog-proof design with multi-coated optics
Allows quick targetting through its advanced sight tube
80mm refractor spotting scope with advanced zooming
Zoom eyepiece between 20x and 60; perfect for close and distance shooting
Pros
Most useful at 20x magnification
Durable metal alloy body
Fast dial and ease of use
Great value for the money
Easy ocular lens swapping
Cons
No sunshade for the lens
Non-padded carry case
Gosky 20-60 X 80 Porro Prism
Staff Pick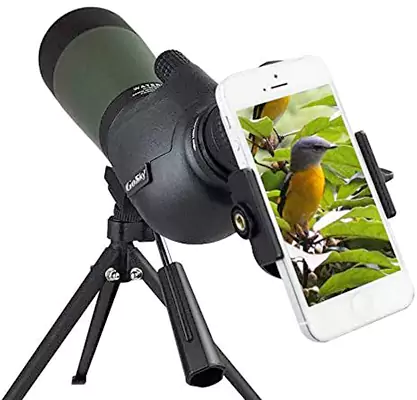 The price of a spotting scope is not always a matter of concern for most buyers as long as they are promised quality, performance, and reliability. Delivering those things with its 80mm objective lens, 20x to 60x magnification range for viewing at a larger distance, and dynamic lens focusing system, Gosky 20-60 X 80 Porro Prism Spotting Scope is our next best spotting scope for birding in 2021.
Whether it is the quality construction with a durable magnalium framework, a dynamic lens focusing system, rubber armor for tight-fitting, and quality Porro prism, this Gosky Spotting Scope knocks it out of the park. What's even better is that it brings the same quality and features variety; in a price range much less than that of a brand like Celestron.
This Gosky Spotting Scope is designed to withstand the toughest of weather conditions making it perfect for birding, hunting, wildlife viewing, and scenery observations. This much durability comes from the magnalium framework which is reinforced with rubber armor. It is designed to provide the necessary fit to make it last longer regardless of the adverse external conditions.
Furthermore, with Gosky 20-60 X 80 Porro Prism Spotting Scope, you are promised an overwhelming digiscoping experience. For that, the scope comes with a digiscoping adapter allowing you to mount your phone on the scope. Not just that, there is a handful of supporting equipment including a carrying case, lens protection covers, and handy straps to improve the ergonomic experience.
Moreover, the brilliant waterproof design for Gosky Spotting Scope was something you couldn't expect from the former $50 product. For a list of uses mentioned earlier, this spotting scope brings a magnification range between 20x and 60x, delivering a brighter, clearer, and crisp image without compromising the image quality even at its maximum zoom capacity.
For a final verdict on the product; Gosky brings the perfect spotting scope for birding under $200 with top-notch image quality, immense magnification range, and durable design that will withstand almost any extreme weather condition and will stick by your side for an enhanced bird watching and digiscoping experience.
Why Should you Buy Gosky Porro Prism Spotting Scope?
80mm objective lens with quality Porro Prism System for brighter and crisper images
The best digiscoping option with added durability at this price range
With the advanced sealing design, it brings the best waterproof experience
The rubber armor and magnalium framework for outstanding weather resistance
Pros
Brighter and contrast-rich images
Huge magnification range i.e. 20x to 60x
Dynamic lens focusing system
Designed for durability in any weather condition
Allows advanced digiscoping with free add-ons
Cons
A few accessories add to the price
Digiscoping is a bit complex to get used to
BARSKA 15-40×50 Colorado
Budget Pick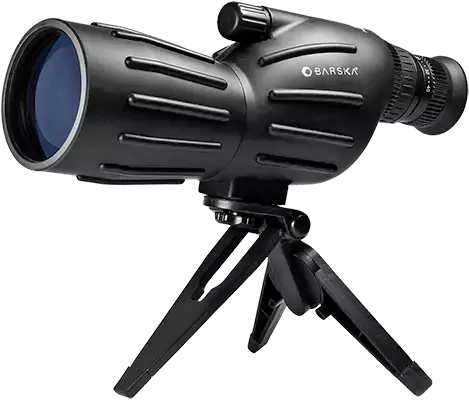 The BARSKA tradition of bringing the best spotting scopes for birding at a reasonable price. As compared to the previous product, BARSKA 15-40×50 Colorado Spotting Scope falls is available for under $50, with fully coated optics, a large 50mm objective lens, table tripod, and a carrying case. Both the design and ergonomics of this spotting scope make it an ideal deal, especially given this price range.
Nonetheless, there are a few limitations including the image clarity up to 150 yards only. Beyond that, the image starts to get blurry, and if your requirements expand to higher distances, we wouldn't recommend getting this one. However, while the scope certainly has this distance limitation, it works like a charm up to 150 yards, delivering precision focus and allowing multiple focal variations.
The wide magnification range allows for open-end general observations between 15x and 40x. Even when we maxed out its zooming capacity, the image clarity was perfect up to the aforementioned distance range. These open-end general observations with BARSKA Colorado Spotting Scope can be enhanced by fitting it on a table tripod ensuring steady viewing regardless of the external conditions.
BARSKA 15-40×50 Colorado Spotting Scope left us quite impressed with its image quality. This is mainly because of the Porro Prism System which allows more light to enter the lens, delivering bright contrast-rich images. What we noticed further is how well it was able to maintain this rich image contrast regardless of the zoom range.
While this spotting scope by BARSKA is mainly for general purposes such as birding and nature observations, hunters might want to get some use out of it. For that, it is not of much use other than indoor target shooting at no more than 50 yards. BARSKA Colorado Spotting Scope has mostly plastic-based construction which explains its cheap price range and thus not so durable experience.
BARSKA Colorado is a nice budget scope with impressive image clarity and zooming range, however, with certain limitations concerning not-so-durable plastic design and restricted distance viewing i.e. up to 150 yards.
Why Should you buy BARSKA Colorado Spotting Scope?
20x to 60x massive magnification under a price tag of $100
The details are at their finest with 60x blur-free magnification
Bright and contrast-rich images even at a very poor lighting condition
The straight body design made for a comfortable viewing experience
Pros
The best budget scope for birding
Great zooming capacity
Contrast-rich image quality
The Porro Prism System for bright images
Comes with a table tripod and carrying case
Cons
Not a long-lasting scope
Blurry images beyond 150 yards
Vanguard Endeavor HD 82A Angled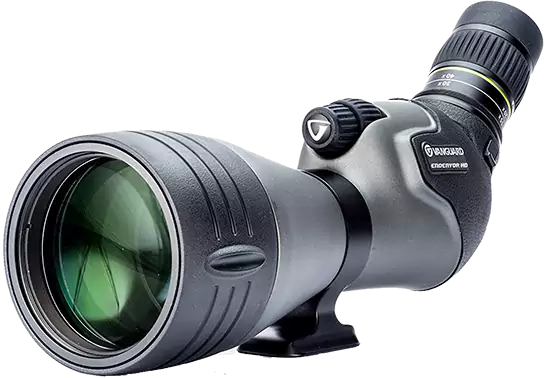 Vanguard Spotting Scopes fall into the high-priced premium category against which they do offer quality but that might not be every person's cup of tea. To introduce you to the product, Vanguard Endeavor HD 82A Angled Spotting Scope is our 4th pick with excellent water and fog-proof design, lightweight magnesium housing, extra-low dispersion glass that is here to eliminate color fringing for good.
Coloring fringing is a big issue, especially in scopes with the dynamic lens focusing, including the product we reviewed formerly on this list. In certain unwanted conditions, that affects the image quality to a great extent spoiling the viewing experience. However, now with Vanguard's extra-low dispersion glass, the problem has been taken care of, delivering the premium experience it promises.
Vanguard Endeavor HD 82A Angled Spotting Scope is lighter (1.8 kilograms) than its predecessor on the list. However, it manages to be more durable due to the magnesium housing. As proper light transmission rate is crucial for providing a brighter and high-quality image, our favorite spotting scope for birding ensures that using advanced coating in its groundbreaking design.
Where it does let us down a bit is when the image quality starts getting blurry as soon as you reach beyond the 30x zoom range. For a product that has done so well in every aspect, this realization has remained a huge letdown. However, if your usage doesn't wander beyond this magnification range, then getting Vanguard Endeavor HD 82A Angled Spotting Scope wouldn't be the wrong choice.
Vanguard Endeavor HD 82A is overall a great spotting scope to carry around. Its carrying case is free, comes with durable yet hard-to-adjust shoulder straps, but the lightweight design with an easy-to-remove lens makes it ideal for some ventures. Moreover, while it aims to eliminate color fringing for good, we have noticed a bit of purple fringing in poor light conditions.
Verdict: While Vanguard Endeavor HD 82A Angled Spotting Scope gets its design right and has a lightweight and durable construction, it is a bit of a let-off, especially given the price range it demands as compared to its competition.
Why should you buy Vanguard Angled Spotting Scope?
The extra-low dispersion system for maximum light transmission
The weather-sealed design made to resist the worst of weather conditions
The best user experience with tripod mounting foot and fine focus controls
The textured rubber armor with magnesium body for sturdiness
Pros
Lightweight and sturdy design
Brighter images with minimal color fringing
Offers maximum portability for bird watching
Easy to carry around on your shoulders
The lens cover is easy to remove
Cons
Blurry images beyond 30x zoom
Poor quality and nasty shoulder straps
Celestron 52268 C90 Mak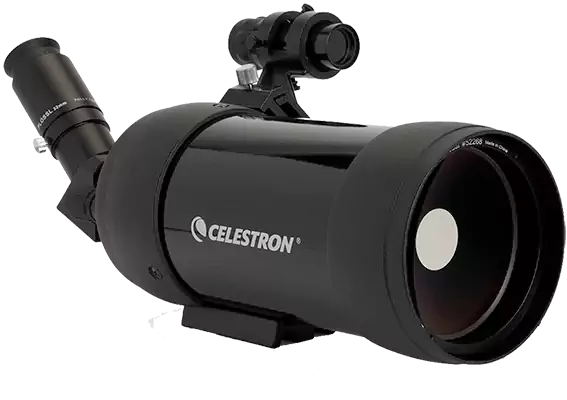 Our final pick for these rankings Celestron 52268 C90 Mak Spotting Scope is less heard of. Nonetheless, it brings a much better combo of astronomical and terrestrial use with a highly versatile optical design, ergonomics for an easy user experience, and multiple uses with a special one for DSLR cameras. Also, with a simple 90mm objective lens, Celestron C90 has the power to magnify up to 39x zoom.
Celestron 52268 C90 is compact, portable, and lightweight, weighing only 2.1 kilograms, allowing better handling of the scope in the field. Moreover, the reputed brings a special feature for DSLR and SLR cameras that comprises of built-in T-adapter threads so that it can adapt easily to these devices. Furthermore, these threads can help in creating a 1250mm lens when used with a DSLR.
The zooming capacity of Celestron 52268 C90 Mak Spotting Scope while maintaining the high image quality is enabled by the powerful yet compact 90mm objective lens. This large objective lens enables you to achieve super clarity even when we are zooming this up to 39x. The idea of clearly watching the birds or natural sceneries without the fear of going blur is amazing.
It has a got a compact design allowing you to fit the scope easily inside the provided carrying case to prevent any inconvenience. You get a handful of cleaning cloths as well to keep your gear tidy for a long-lasting user experience. Even the backpack is made of nylon ensuring that no extra or unnecessary weight is being added to your luggage while making the carrying job easier than ever.
Celestron C90 is the best spotting scope for birding and astronomy could offer a wide range of uses depending on the type of tripod it is mounted on. The compatible ones are cameras and astronomical tripods, however, if you can get more creative, the product has enough flexibility to adapt according to your needs.
The verdict for this C90 doesn't differ a lot from the previous Celestron product, however, paying a few extra bucks could bring you a spotting scope that brings much more options. That would include more mounting options, a lightweight spotting scope, and more zooming capacity.
Why should you buy Celestron Mark Spotting Scope?
Portable design for birding, astronomical, and terrestrial use
High-quality nylon backpack with plenty of free necessary accessories
The perfect price range, especially for a scope with multiple uses
T-adapter threads allowing it to adjust to SLR and DSLR cameras
Pros
Zooms well up to 39x without getting blurred
High-power optics
A portable and compact design
Easily mountable on astronomical and camera tripods
Great for astronomy projects and bird watching
Cons
Higher asking price
Not a waterproof scope
Conclusion
With two Celestron Scopes being the equally great choices that you can choose depending on your budget and Gosky Spotting Scope being our next favorite recommendations, we shall therefore conclude our reviews of the best spotting scopes for birding.
What you must remember is that spending a heavy sum of money on a scope is not a wise option, especially when birding is your only use for these products. Though we wouldn't argue if you are someone having a particular passion for spotting scopes.
Let us know if you have any further queries in the comments and keep visiting Tactical 1 Equipment for more helpful and interesting tactical guides.
Frequently Asked Questions
What magnification is best for watching birds?
Usually, a 10x magnification is more than enough to get your bird watching needs done. For a wider and brighter image, you could reduce the magnification up to 8x which allows easy bird tracking.
What to consider when buying a spotting scope for bird viewing?
Before you buy a spotting scope for bird viewing, ensure that the product has at least a 60mm objective lens for delivering brighter images and a zooming capacity from 8x to 20x minimum.
Are spotting scopes better than binoculars for birding?
Even though spotting scopes are not easy to transport like binoculars are; they are a piece of much better equipment for bird watching because of their outstanding magnification capability and brighter & contrast-rich images.