What do nature observers, surveillance experts, hunters, and campers have in common? Well, all of these people long for the best spotting scopes that will make their respective jobs easier. This has led to several digital trends followed by several releases by top scoping brands.
Now, whether you are someone who likes to watch birds, do stargazing, or plane spotting, it is time that you find a spotting scope that suits your needs. For that, there are multiple factors and features that you must consider and compare before finding the right product.
Most people look for features like portability, compactness, bright & clear image quality, zooming capacity, durability, and availability of supporting accessories like table tripods & rubber grips. A product that has these features better than the others will likely be your choice.
But, a spotting scope that tops others is often very expensive, especially when it comes from brands like Bushnell, Vortex, and Nikon. And, since a simple pair of binoculars isn't going to cut it, it leads to the need for a list of best budget spotting scopes and this is what we aim to achieve here.
So today, we are counting down our picks for the Top 5 Best Budget Spotting Scopes while reviewing each of the products in detail. We have discussed their features, their benefits, pros, and cons.
Also, before bringing the reviews, the following is a quick and sound comparison of the major specifications of our best spotting scopes. We have also compared the price of all spotting scopes on this list to make decision-making easier for you.
Recommended 5 Best Budget Spotting Scopes
Celestron 52322 Landscout 12-36×60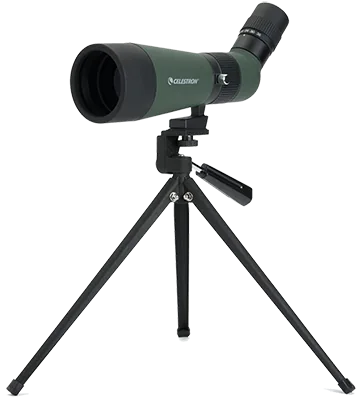 It takes much more than an affordable price for a spotting scope to convince a hunter. There have to be features like ease of use, compactness, bright images, and lightweight design. Our first pick Celestron 52322 Landscout 12-36×60 Spotting Scope delivers them all.
A spotting scope is usually an extra and helpful accessory that can overburden a user if it is not portable. This best budget spotting scope by Celestron is portable enough to be carried easily on your hunting adventures. It has a lightweight design weighing only 0.51 kilograms and easy packing so taking it out on the range is no longer a problem.
This spotting scope uses a large 12×36 eyepiece, allowing you to have a detailed general view of the field. Moreover, since it has a large zooming capability, you can have an up-close look at the target and observe it for longer. Nonetheless, the magnification adjustment has been made convenient with a rubber grip.
Celestron 52322 Landscout 12-36×60 Spotting Scope has a wide range of use. That would include indoor and outdoor shooting range activities, birding, hiking, and other outdoor excursions. The scope fits perfectly inside any backpack due to its compact size, enhancing portability.
The accuracy and precision have been made possible with a large focus wheel. You can use it with your bare hands or even while wearing gloves, nonetheless, it works perfectly. While you can focus on a target with ease, this might be all that you need from your budget spotting scope.
Celestron 52322 comes ready for your spotting needs with a rotating tripod mount. What it means is that you are provided the best viewing angle and position to spot and observe your target. However, finding the right angle will depend on your target's size, distance, and whether or not is moving.
Other than adequate zooming capability and ergonomics, this spotting scope brings a 60mm objective lens. This will open you up to proper brightness settings that you can adjust according to your needs on a rifle range or for purposes like nature observation during an adventure.
Pros
A very portable spotting scope
Good magnification capability
A wide field of view
Better ergonomics while zooming
Lightweight design and soft carrying bag
Cons
Hard to focus on lower magnification levels
The material quality is substandard
Not very durable
Gosky 20-60×60 HD Spotting Scope with Tripod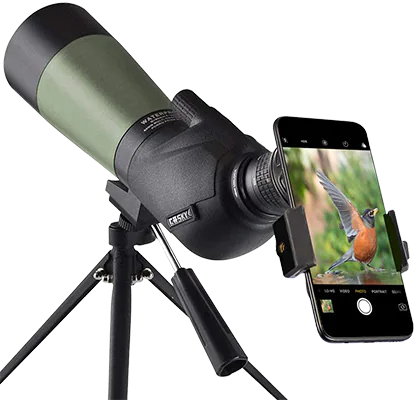 While you are spending under $100, most users would always be expecting some quality reduction. To our surprise, Gosky 20-60×60 HD Spotting Scope was nothing like it. When we pushed it to magnification as high as 100 yards, the scope worked perfectly making it another best budget spotting scope choice.
When users are going through different scope choices, they usually center their thoughts around ease of use, eye comfort, and high picture quality. To your luck, this best spotting scope under $100 makes sure that you enjoy every bit of these features.
For people who would like to utilize their HD quality screens for spotting stuff, the Gosky Spotting Scope comes with a phone holder installed at the back. However, we have found its positioning to be quite annoying and frustrating and it should have been designed better.
Whether you are looking forward to spotting at 50 yards or hitting the 100 yards mark, Gosky has zooming capability between 20x and 60x. You can zoom to an extended range while still having a clear view of the target. Furthermore, it enables easy target locking and zooming for the users.
Gosky 20-60×60 HD Spotting Scope also has a wide range of uses including hiking, camping, scenery, outdoor sporting, bird watching, and hunting. Also, if you are someone who has other uses for it like astronomical observation and outdoor sports, this scope just works.
The waterproof design of the Gosky Spotting Scope comes with an O-ring seal. This seal works to prevent dust, debris, and moisture to enter and save the day for you. Gosky Spotting Scope has a durable construction with a high-quality rubber providing a great non-slip design.
The company's special focus has been on making the product withstand any adverse weather situation. They have made it shock-proof and durable enough to ensure the toughest weather conditions. It has an eyepiece shield that can be extended depending on your need for enhanced protection.
If you are planning to use it for photography with an iPhone or Android, the performance can be fiddly. Moreover, we have already mentioned how poorly positioned the phone holder is.
Pros
Brilliant magnification
Multiple spotting activities
Great magnification range
Eyepiece shield for protection
Durable and waterproof design
Cons
Poorly positioned phone holder
Not great for photography with a phone
BARSKA 15-40×50 Colorado Spotting Scope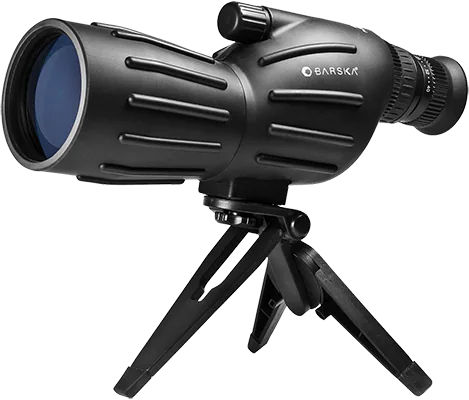 Even with limited features, a spotting scope can get cheaper than $50. While it may not have very advanced features, our next pick BARSKA 15-40×50 Colorado Spotting Scope gets the job done with a compact and portable design, enhanced image detail, and wider field of view.
Most low-price products give a notion of low-quality construction and less durability. But this Barska Spotting Scope comes with full coated optics enabling it to withstand all undesirable conditions. Its quality is further enhanced by a Porro prism system which is a prominent part of the design.
Barska Spotting Scope is not a premium product and it doesn't promise to be either. However, what you get is zoom levels between 15x and 40x among which we recommend using the former for great ease of use. The latter could trouble most users since it is difficult to use.
Being someone who can be a little smart with his approach, you can bring this spotting scope to achieve its best potential. For instance, using a proper tripod stand and achieving the ideal height for spotting purposes will make it stable and improve your ease of use.
Luckily, you get a table tripod stand when you buy the product present inside a soft and easy-to-carry carrying case. These are a few bonus benefits that not only save you a good sum of money but also add the convenience that you so desperately need from a product in this price range.
As per the product's description, you can achieve the required clarity as long as you don't venture beyond 150 yards. At this distance or its lesser values, Barska Spotting Scope will be a great buying option, especially when you are looking for the best budget spotting scope.
A bit more about the Porro Prism System; it brings an enhanced image with a rich contrast regardless of the zoom level which this scope enables. All of these systems make Barska Spotting Scope a great product for bird and nature spotting, however, it has never been a good target scope option.
It has a fair share of cons including a cheap quality knob that doesn't feel nice at all while using. Moreover, the picture quality is initially good, however, as soon as you start venturing at higher zoom levels, it becomes absolutely rubbish.
Pros
Great for the budget
Better zooming capacity
Durable and sturdy
A free table tripod
A handy carrying case
Cons
Poor image quality
Low-quality knob
BARSKA Colorado Waterproof Spotting Scope
Barska is a reliable spotting scope brand unless you confine it to the strains of very low prices. An example of that is this BARSKA Colorado Waterproof Spotting Scope that still doesn't go past a price of $100 and fixes everything that was wrong with its predecessor on this list.
The first feature that it improves on is the zooming capacity. As compared to the previous product, this best budget spotting scope has the zooming ability between 20x and 60x. This enables easy targeting on the field bringing a detailed and closer look at the targets.
As for the construction, you can rely on its aluminum build and waterproof design making it suitable for all weather conditions. The optics are fully coated that not only stay intact but also provide a great opportunity for clear and bright views, proving that it is worth the price.
There is nothing complex about the innovative design of the BARSKA Colorado Waterproof Spotting Scope. It is made to withstand water contact, fog, shocks, and other undesirable happenings. Also, it has a straight design that reinsures the ease of use Barska is well-known for.
Packed inside a soft carrying case that is compact and easy-to-carry, Barska Colorado Spotting Scope is accompanied by a table tripod using which you can make the experience more stable. Moreover, mounting this on this tripod will ensure steady viewing at any angle that you want.
So what do we recommend about a better spotting experience with this Barska Spotting Scope? Well, the first thing is keeping it at 20x if you are having a general viewing experience. However, switch it as fast as you can at 60x for a detailed look, trusting that the image will still be clear and stable.
Since this is an entry-level spotting scope, the image quality is bound to decline after going past 300 yards. Moreover, it is only going to last a few months so make it a temporary option while saving for a more durable product that will last longer.
Pros
Improving zooming capacity
Durable aluminum build
Waterproof and fog-proof design
Compactness and portability at their best
Easier carrying and transport
Cons
Might not last more than a few months
Poor controls quality overall
Simmons 20-60X60 Venture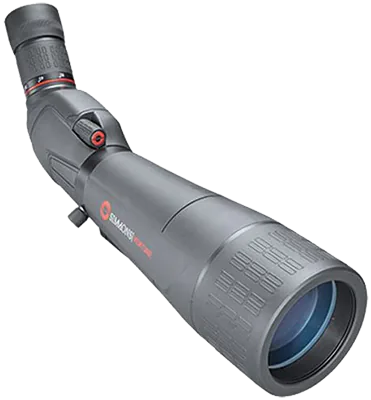 In the end, we have broken the hundred-dollar shackles to bring Simmons 20-60X60 Venture Spotting Scope as our final pick for the list of best budget spotting scopes. Made especially for hunters, this spotting scope has a special ability to perform in low-light conditions delivering brighter images that you have not witnessed before in this price range. But, why is that?
The piece behind this great performance is a multi-coated lens that is not only easy-to-use but delivers perfectly on its performance of brighter images regardless of the time of day. Other than that, the eyepiece is set at a right angle and straight enabling you to monitor the scene with the ultimate stability.
While a stable spotting scope is necessary for a better viewing experience, Simmons 20-60X60 Venture Spotting Scope comes with a table tripod which is always a much-needed accessory to achieve the required stability. This stability is further improved by a built-in window mount that we haven't seen before.
Now instead of packing it inside a soft carrying case, the manufacturers have opted for a rather harder one. This decision led to a combination of pros and cons. For instance, while you gain strength and durability for your product, it damages the portability, leaving a clear choice for you though.
Another thing that we appreciate is Simmons' focus on designing a working and convenient phone attachment. Once you have mounted your cell phone on its easy-to-use phone holder, you can capture photos and videos without worrying about instability issues that often present themselves.
Summarizing its good features, Simmons 20-60X60 Venture Spotting Scope has a great finish, the glass quality is decent, and has a lightweight design that will work just fine for you. However, the design lacks the much-needed eye relief making it irritating to use for longer periods.
Being a budget spotting scope under $200, you can't expect this Simmons Spotting Scope to perform with excellence beyond 200 or 300 yards. Nonetheless, in this price range, Simmons 20-60X60 Venture Spotting Scope is a great choice that delivers impressive clarity at the mentioned zooming range.
Pros
It has a multi-coated lens
Great for low-light conditions
Sturdy design and stable viewing
Both soft and hard case options available
Affordable price and cell phone attachment
Cons
Substandard material used in manufacturing
No eyepiece relief for hunters
Conclusion
Based on their affordable price, zooming capability, design, and portability, the Celestron and Gosky Spotting Scopes are our top two recommendations. However, with an increased budget, it is better if you opt for Simmons Spotting Scope for a durable and better spotting experience.
And with this final verdict, we shall conclude our list of the 5 best budget spotting scopes. Even though we have tried to cover every feature there is to know, there might be some unanswered queries that you should leave in the feedback.
So leave us your feedback and queries in the comments and keep visiting Tactical 1 Equipment for more helpful and informatical tactical equipment guides.
Frequently Asked Questions
Is a Spotting Scope worth it?
Yes, spotting scopes are worth it since they are popular optical units that provide enlarged images of distant objects, ideal for large distance viewing and different activities, such as hunting, birding, camping, surveillance, and stargazing.
What is the best 1000 yard spotting scope?
It is difficult to get a budget spotting scope for 1000 yards, however, what you can opt for are brands like Bushnell, Celestron, Vortex, and Barska. These are the brands that make the best 1000 yard spotting scopes.
Is angled or straight spotting scope better?
It depends! If you want faster target acquisition, go for a straight spotting scope, and similarly, angled spotting scopes provide better stability.