So do you own a rifle like me? It may be a hunting rifle or a tactical rifle. I have a AR 15. Once I was traveling to Virginia with my gun and then I realize the necessity of a perfect rifle case. That was awkward to carry a rifle without a case in public places. If I was going to any jungle for hunting that was ok there to carry the firearm on the shoulder. Then there is also an issue of the safety of the rifle. I don't want to see any damages in my AR 15, nor does anyone want.
You may also go through those circumstances and definitely now you are looking for the best rifle case for your firearm. When I was facing the problems, I tried to research the best rifle case so that my cool AR 15 remains safe and you won't believe that there was not enough information on the internet. Yeah, there were some crappy sites around. But they all were mentioning the same rifle cases that others had mentioned. Then I thought to write my own experience to let you know about how you can find the perfect cases for your rifles. So if you are still here, let's dig into the deep?
Our Top 10 Best Rifle Case Reviews
Here are the top 10 rifle cases I mentioned along with their features. I used some of them including the Plano Pro-Max Scope rifle case and got excellent service. So I thought to include them in the list. And by researching other cases, their customer reviews, studying their uses and defects I make the list of top 10 rifle cases.
Plano Pro-Max
Best Pick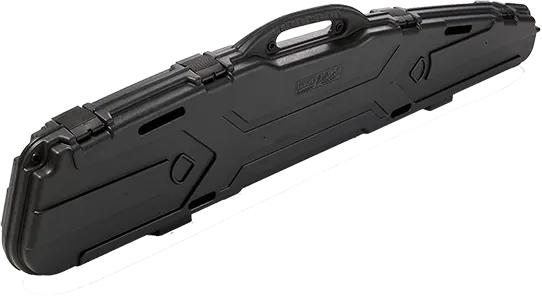 The Pro-Max, a single scoped rifle case from Plano, comes with interlocking foam and has the ability to lock. It is perfect for a hunting trip to Alaska. It keeps the riflescope safe and secure while traveling. The Pillar Lock system is patented while the thick construction helps in protecting the firearm while traveling. It comes with a molded-in handle.
The case is lockable and is approved by the airlines. That means you can take it with you while you are traveling by air. It comes with a dimension of 3.8 X 53.6 X 13 inches. There are other products from Plana such as the Gun Guard, SE Single rifle case, the Pro Max Double Scoped case, the AW XL Pistol, and accessories case in black.
It fits the Savage MK II FV-SR along with its Mueller scope, UTG Tac-Op Bipod, and the cheek riser. It fits a Remington 870 12 ga. The shotgun fits with its scope in the case.
Why should you buy Plano Pro-Max Series Gun Case?
Watertight Seal
Secure Draw-Down Latches
Customizable Foam Inserts
It has a Pressure Relief valve
There is an over-molded handle
Made with tough and high-quality material
Pros
The case is lightweight
The clamps and hinges are sturdy
Economic and has value for its price
The rubber foam keeps the items secure
Made of decent quality materials and perfect to store a 45" rifle along with the scope
There is ample space for cleaners, ammo, and boresight, as it has great storage space
Cons
It is not water-tight
It can be easily pried open
If there are thieves around, the protection is not sufficient
Plano All Weather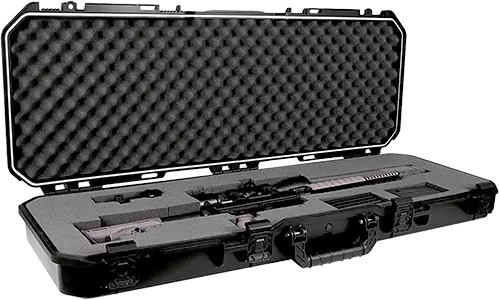 Plano's molding Tactical Gun Case is perfect for all types of weather. It comes with an internal dimension of 43 X 13 X 5 inches and an external dimension of 46 X 16 X 5.5 inches. The gun case comes in black color. It has a watertight seal that protects the firearm from damages.
There is a pressure relief valve that is built-in and protects the case, in case of bumping during airline travel. It has customized foam inserts and has draw-down secure latches. It is provided with airtight shields too as well as Dri-Loc Seal. This All-Weather case is very protective in extreme climatic conditions. The lockable latches are very protective.
Pros
The hinges are protected with high strength
There is an over-molded handle
They come with pluck foam of high density
The All-Weather gun case helps in protecting the firearms in all types of climatic conditions
The continuous Dri-Loc Seal keeps the case protected with watertight and airtight protection
Cons
The guns can be a little raised so that they can be easily taken out
Flambeau Outdoors 6500AR
Staff Pick


The AR case from Flambeau is good plastic. The Flambeaus patented Zerust, in the magazine dividers is molded directly into it to prevent corrosion. There are 4 safe shot latches and 4 padlock holes to provide good security along with 4 magazine pockets. The integral handle makes it easy for carrying. The lid and base of the case are of polypropylene material. The internal dimensions of the case are 40 X 12 X 4inches.
The case is large and comes in a black color case. The configuration is flexible and has great space. The M&P logo looks great on the case when you open it. Hard rifle cases provide more protection from the outdoor forces and the elements found in the range. When hunting for ducks, the case has to be waterproof to prevent the sprays from soaking the guns.
Pros
The patented Zerust from Flambeau keeps the firearms protected from corrosion
The tactical rifle case is strong and well-built
It is provided with Velcro straps for tight security
The magazines are also provided with straps and organizers
It fits the Adams Arms Mid Length along with its Scopes and with two mags. It is large enough to hold the rifle along with a 3 in 1 scope as well as room for about 8 magazines. It is great for AR, 15 platform rifles. The M4 style fully extended rifles fit in pretty well
Cons
The plastic is not very robust
The high and the latches are not very strong too
Replacement foams are charged by the company
More mounting points could have been provided
Pit Bull Rifle Case

The Bulldog cases come with total soft padding of 1 ½". The outer shell is of durable nylon and is water-resistant to protect the firearm in a wet climate. The inner lining is brushed tricot and is soft and scratch-resistant. The inner lining is laminated. The rifle case from Bulldog is shaped to accommodate both scoped and non-scoped rifles. It comes with a full-length #8 zipper with a pull. The soft case provides padding, to the rifle on each side. The full-length zipper is of good quality and protects the firearm inside securely. Soft cases are lightweight and easy to carry though they cannot withstand harsh climatic conditions.
Pros
The Bulldog case measures 48" and is a great economy soft case
The middle is raised slightly
The stitching is good and the soft case comes with a small plastic attachment at the top
It comes with thick padding and is waterproof to protect the firearm inside the soft case
The rifle bag is great, to carry the rifle for hunting and range
They are lightweight and useful for visits to the range and for short visits
Cons
The soft case is a no-frills case and does not have side pockets or shoulder strap
If extra boxes of pellets or extra tins are taken, there are chances of them scratching the rifle, due to movement
Plano 10470 Gun Guard

Plano's 10470 is a single rifle case with a 50mm high mount scope. The case is provided with padlock tabs to provide more security and to facilitate airline travel. It has a very protective foam interior of high density. It is also provided with a contoured recessed handle for easy travel. The steel hinge pins add to the durability of the case. The product comes with a dimension of 49 X 12 X 3.5 inches. Single rifles have to be kept safe and protected even at home. The molded plastic provides good protection and is most useful for travel, especially with its lockable facility and good padding
Pros
The plastic is durable and molded for ordinary storage and transport and is most suitable for light transport.
It can hold a mossberg 12 ga pump and a small .410 shotgun inside the case. It can hold a Savage Axis II XP which is of 43.875" in length.
The case is most economic
It has holes in it to be affixed by a lock and key.
The egg-crate foam is not attached to the case for the convenience of the user. It can be stuck by using double-stick tape.
There are four separate pieces of tabs that can be used and bent.
Cons
The plastic is not very sturdy and can be pried open very easily
It does not accommodate long guns
The padding is not affixed to the case and the foam is too thin to transport the rifle in long-distance travel by air or by ship
NcSTAR VISM Deluxe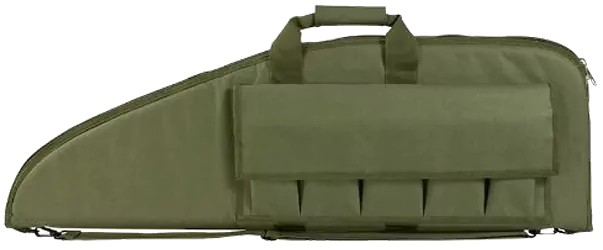 The NcStar rifle case is made of tough PVC material. It has inner foam padding of high density to provide superior protection. It is provided with heavy-duty double zippers. The full range of sizes can accommodate most shotguns and rifles. It comes with inner measurements of 40 X 12.5". The soft case is made of Cordura Nylon that has a long life. The inner material is oft cotton. The scabbard is well-designed for easy carrying and mounting on tactical gear. The NcStar Camo soft rifle and shotgun case are sturdy for use. NcStar products are innovative with their cases and provide good gun cases and gun safes.
Pros
Though the rifle does not come with straps, it is so designed that it does not slide around
It can fit a Romain AK7
The case is most economic
The bad comes with handles that are provided with a Velcro padded wrap to hold both the handles together
There is a small provision or pocket that can hold an ID tag on one side of the bag
The padding is good and it can protect the rifle well
Cons
The pockets do not have individual flaps but a common flap that is closed by a Velcro, rather than snapping shut
There is a shoulder strap provided on the folded edge of the bag. If the bag is not zipped up properly, the entire contents may fall out
Flambeau Outdoors 6470SE Safe Shot

The 785312 Safeshot Econ Rifle Case from Flambeau is a single case that is hard-sided. It is made of good quality material. The padding comes with eggshell foam. There are four locking points with hinges that are arranged in piano style. This prevents the case from opening, especially when it is in transit from one place to another. The product comes in dimensions of 53 X 12 X 4 inches. Rifle cases from Flambeau speak of the brand and the quality that goes with it.
Pros
The padding is of egg crate type and it is about ½ to 1-inch thickness. There are four slips in the middle.
It can fit a 47" air rifle with a small scope but will not fit a big scope. It will also fit a 12 gauge shotgun and a Tasco 6-24. It can fit any .22 rifle in this single rifle case. It is perfect for a Mosin Nagant M39.
There are 4 latches that are strong to keep the case closed
It has holes in it to be affixed by a lock and key.
There are 2 holes on the handle by which they can be padlocked with plenty of space within the case to store clips too.
There are four separate pieces of tabs that can be used and bent.
The case is lightweight
The case is very affordable and useful for light travel, such as critter hunting and target shooting.
The case is large and of good quality, with ample depth and rigidity.
Cons
The foam is not stuck to the case and is not very strong.
The latches are flimsy with toggle latches.
Uncle Mike Tactical Rifle Case
Budget Pick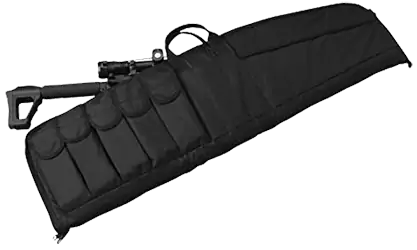 Uncle Mike's soft rifle case is available in both medium and large sizes. The medium-sized case comes in 33 X 10" with three outer pouches. The large size rifle case comes in 41 X 10" with five outer pouches. These magazine pouches come with hoop and loop closures. The shooter can use this top-quality rifle case for easy transport. Having storage space for scopes and optics is a must. Choosing the best rifle case to meet your requirement is the best.

Pros
The magazine pouches can hold Magpul Pmags. The mag pouches can hold 30 round magazines and come with a Velcro. They also fit G1 round mags easily
The rifle case fits AR15 Carbine with room for a scope and forward grip. It is perfect for the overall length of M4.
The inside cushioning is strong and the case is sturdy to protect the firearms during travel in cars for ranges
There are two carry handles in the middle and on the top. There is a shoulder carry strap too
The nylon fabric and the zippers are strong.
The banana-shaped clips are great in the clip holders.
Cons
The clip storage is heavy
The zipper teeth are not aligned at the ends and are flat and hence not very smooth
Velcro does not have a long life.
The soft rifle case is not right for the long gun.
Drago Gear Double Gun Case

The Drago Gear has been specially designed to protect two rifles at the same time for storage purposes as well as for transport purposes. The gun case has backpack straps that are well-padded, that allow for hands-free transport. The Drago Gear Double Gun Case comes with three large pockets to store ammunition and firearm accessories. It is provided with dual-zippered storage areas. The product dimensions are 42 X 14 X 12.5 inches. They are water-resistant and can withstand rough and wet climates. It is spacious and has more storage compartments. The carrying handle is well-padded.
Pros
The bags are designed to protect long guns.
They come with multiple storage areas to store accessories along with the guns in an organized manner.
The backpack straps help the user with hands-free transport
The water-resistant feature in it facilitates proper protection from all types of moisture, especially when taken in wet weather.
The heavy-duty zippers are good and keep the firearms secure. They can be aligned to be locked through the holes provided in them.
The center pockets can be used to place goggles and ear protectors. You can also keep mags in them.
Cons
The locking facility on the zippers is too small for locks
The guns keep sliding in their compartment as they are not held secure as the Velcro strips are short and stiff.
The pockets are of different sizes and things to be stored have to be placed accordingly.
The front pockets are not very strong
Explorer 3 Rifles Weapon Case

The Explore Rifle Case is made of heavy-duty polyester 600 D that has been made with high-quality stitching. These YKK lockable zippers are of good quality and keep the weapon case intact as they conform to the military and law enforcement. The thick padding foam is ¾ inches and is very protective of the firearms stored inside the rifle case.
Multiple riles can be stored in the case to carry 3 rifles, 4 pistols, or 4 shotguns. There is a Velcro strap provided for the proper security of the items in the case. There is plenty of storage room to store boxes of ammo, magazines, and other accessories within the weapon case. It can be carried either by using the handle provided or by using it in a backpack style. The rifle case comes in measurements of 46 X 13.5 inches and has a detachable shooting mat.
Pros
The Explorer 3 rifle case can store up to 3 rifles/ shotguns or 4 pistols.
The padding in the case is great for using it for transport in the car or in the field
The adjustable Velcro tie-downs keep the firearm secure while the thick foam keeps them safe. The zippers are tough and meet the military and law enforcement
The storage space is large for enough space for cleaning kits, boxes of ammo, magazines and other accessories.
The bag can be carried in three ways. They can be carried using the shoulder strap or the strap in the center of the bag or by using it in a back-pack style using it as a shoulder harness.
It is waterproof.
Cons
As it has large storage space, the case becomes quite heavy with the firearms and accessories within it
The items in the case have to be well organized and kept safe to prevent damage by scratches or dislocation.
Things to consider before buying
You now know the importance of using a gun case. So you need to select gun cases wisely. There are some factors that you should consider before buying any gun case. It is best to do some online research before you buy any rifle cases. Let's see some criteria that you should look for in a rifle case:
Preference to durability: The durability of the gun cases have to be given top priority. If the guns are taken to the shooting club, it does not require much protection as much as taking them to the woods.
Water-tightness: Taking them out of the rough weather has to be considered to withstand the stormy climate, mountain tops, etc. Water may corrode and make the firearms unusable.
Storage: The storage capacity of the gun case for a single gun or for many guns has to be considered.
Dust-protection: Dust protection while locking them up in the cupboards or while being used in the range, has to be considered.
Portability: When guns are used for target shooting, skeet shooting or other such sport, they can be just carried, or taken in cars. But if they are taken to distant places, they have to be transported through ships or flight. In such cases, the cases have to withstand the strain of travel.
Cost Factor: The cost factor is the most crucial determinant for choosing the right rifle case. Once a person frames a budget, he can determine the best case that would suit his need and choose from the options available.
Types of rifle cases:
There are various types of rifle cases available. The hunter gun cases have to be sturdy, while the sportsmen case requires light protection. Personal gun cases are more for storage in closets and under the beds. By plastic covers, you can give protection when you are in light travel and at home.
Hard gun cases are the best choice if you do a lot of traveling. These types of cases give you the most protection than soft gun cases. Also, there is soft foam inside these cases to prevent your gun from getting damaged or scratched. If you have proper knowledge of choosing a gun case, you may get one that is dust, water, and scratch-resistant. I always try to get hard cases for my rifle.
Soft Gun Cases are more affordable than hard cases. Though they are more affordable than hard cases, they can not provide you the same level of protection that hard cases provide. They are made of some lightweight materials like nylon, polyester, neoprene, and leather. The soft gun or rifle cases are lightweight and perfect for hunting trips.
Other Varieties
Boyt gun cases provide good quality gun cases for hunting and for other outdoor gear.
Pistols can be stored in both soft and hard cases depending on the purpose of the case.
The Blackhawk gun cases as well as shooting mats are great for military and law enforcement use and for sporting purposes.
The Camo gun cases are great for the rifles and to store shotguns too.
The Pro-Max Takedown Shotgun case is apt for take-down firearms and to provide security and comfort.
Mossy Oak's Stillwater rifle case, made of polyester, is rugged and lightweight.
Gator offers rugged cases that are waterproof and made of lightweight resin of 600 Denier Nylon.
The Glock pistol case provides added safety for transport and storing of the Glock pistol.
Smith and Wesson pistols are perfect for accuracy and stopping power and have to be well-protected for perfection.
Rifle bags and gun bags from Barska come in protective hard cases that are watertight and crushproof.
They meet military perfections.
The iSeries gun cases for long guns are good utility cases that provide waterproof security made of molded polypropylene of ultra-high strength.
Allen Company manufactures hunting, tactical, archery, and other outdoor products under their brand.
SKB manufactures cases for hunting, as well as for musical, sports goods equipment, pro audio, and light applications for travel and storage.
Pelican cases and backpacks, provide rugged protector cases. They are lightweight and versatile, for all rugged uses, to provide airtight, dustproof and watertight cases.
Conclusion
Protecting your valuable rifle with the best rifle cases is most critical for any gun owner. By giving priority to the purpose of the gun case, they can be purchased from the many options available in the market. You need to be more careful about the protection level of rifle cases. Providing defense and protection through the gun case, requires careful analysis, before acquiring them. Handguns, pistols, and revolvers are various types of firearms available for easy handling. The shooting bags and range bags can store all the gun range needs that are required. Revolver cases and handgun cases have a wide range of choices at very economic rates too. There are tactical flashlights to aid in your venture to be used along with your guns and rifles. The binoculars can also be stored along with the gun case if there is ample storage space. Cases that allow for the quick draw of firearms make the trip to the ranges more exciting.