Power, better recoil, availability, compactness, strength, and reliability; there are so many reasons that you can name that makes a .308 bolt action rifle a hunter's favorite. However, instead of focusing on the rifle today, we are aiming to bring a collection of the best scopes for a .308 bolt action rifle.
Often referred to as a huntsman's best companion, the .308 bolt action rifle is famous for its carbon-steel barrel and synthetic stocks.
Due to these specs, finding a fitting scope for this rifle is quite hard to find even though they are abundantly available in the market.
To help you with that, we have picked our 5 best picks based on their material quality, compatibility with top-rated .308 bolt action rifles, performance, and price.
Best Scopes for .308 Bolt Action Rifles
Vortex Optics Crossfire II
Best Pick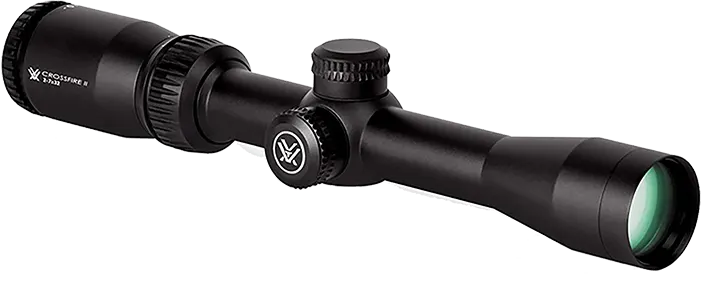 For any .308 bolt action rifle, Vortex Optics Crossfire II is the perfect scope choice for medium to long-range shooting. This is one of the latest Vortex editions with a variety of exciting features including Dead-Hold-BDC or V-Brite Illuminated (depending on the model you get), an ultra-forgiving eye box, and a fully-coated anti-reflective lens.
For hunters, we recommend getting the variant with Dead-Hold BDC since then both the rifle and scope compliment each other so well. Moreover, being someone concerned with the range of the scope, it can easily work up to 1000 yards as compared to its competitive scopes that are more expensive without posing image blur issues.
A scope's performance in bright sun and low-light conditions are always the deciding factors for a spotting scope. Vortex Optics Crossfire II is a clear winner in this regard since anti-reflective coatings on its glass surface give their best for a near-perfect light transmission with a glare as low as possible.
This brilliant low-light and bright sun performance benchmarks are more than enough to make Vortex Optics Crossfire II the best scope of .308 bolt action rifles. However, it does have its limitations as well since it is only a medium to the long-range scope and doesn't do much help in close ranges.
Other than that one minor flaw, Vortex Optics Crossfire II has an excellent variety in its build including an ergonomic magnification adjustment knob, elevation adjustment knob, fast-focus eyepiece, and so much more.
Why should you buy Vortex Optics Crossfire II?
It has an ultra-forgiving eyepiece that gives you a quick picture with long eye relief.
Its single-piece tube is made from high-quality aluminum for a durable experience.
Both Dead-Hold BDC and V-Brite Illuminated variants are available for the scope.
Not just that it fits well on the .308 action rifle but also provides great compatibility.
Pros
Durable aluminum build
Ultra-forgiving eyepiece
Affordable price range
Perfect compatibility
Dead-Hold and V-Brite Styles
Cons
Poor close-range scope
Hard to optimize for low-light
Bushnell Banner Dusk & Dawn Multi-X Reticle Riflescope
Budget Pick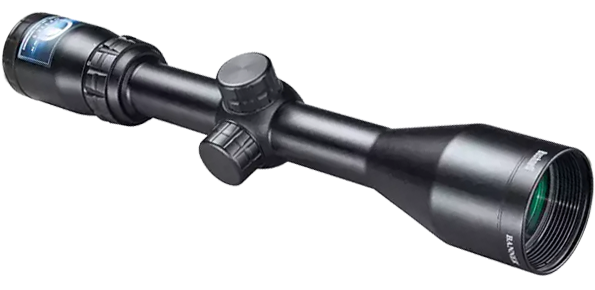 Bushnell goes hand-in-hand with the likes of Vortex when it comes to delivering scope quality and performance. While going through the scopes for this list, our next pick for the next best scope for the .308 bolt action rifle was Bushnell Banner Multi-X Reticle Riflescope and we are glad about this one.
Introducing you to its features, the Bushnell Banner Riflescope has a durable IPX4 waterproof design and Multi-X Reticle for fast and easy target acquisition. This is branded as Dusk and Dawn because of its smart low-light performance during both time slots.
Besides the waterproof construction, the optics of the Bushnell Banner Dusk & Dawn Multi-X Reticle Riflescope are multi-coated ensuring that no fog accumulates on the glass' surface. This is done to deliver a sharper, crisp, and clear image while shooting.
Besides its built quality, performance, and easy-to-use features, we are amazed by the beautiful design of this riflescope. While mounted on your rifle and fulfilling its duty performance-wise, the aesthetic vibe which it delivers in its original color is jaw-dropping.
On the other hand, its eyepiece besides being easy-to-use delivers an amazing pace while focusing on any near or distant targets. This, combined with its good low-light performance, makes a scope that is ideal for both professional and hobbyist hunters.
In Bushnell Banner Dusk & Dawn Multi-X Reticle Riflescope, the brand brings a new feature that allows you to reset your elevation and windage adjustments in case of hard use and bumps. This is even more useful with a fast-focusing eye reticle that you can adjust at a rapid pace.
This Bushnell scope, as compared to its predecessor on the list, is a bit heavier weighing 0.81 pounds as compared to the 0.51 pounds of the first product. However, that only makes a little difference or no difference at all if you are hunting in ideal weather conditions.
Why should you buy Bushnell Banner Dusk & Dawn Multi-X Reticle Riflescope?
This Bushnell Dusk and Dawn Riflescope has a durable and beautiful design.
The best Dush and Dawn feature delivers top-notch clarity of the image.
A fast eyepiece that allows quick target adjustments during all hunting conditions.
The Multi-X reticle with a button for resetting windage and elevation settings.
Pros
The best price
Durable and attractive design
100% fog and waterproof
Fast-focus eyepiece
Good recoil handling
Cons
Limited for close-range utility
Vortex Optics Diamondback Tactical Riflescope
Staff Pick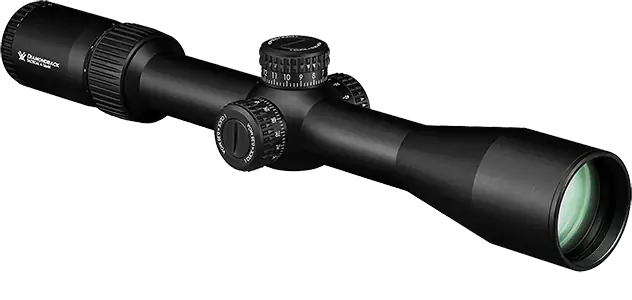 The reason behind Vortex dominating the riflescope market is the brand's ability to provide the perfect blend of value and precision. Following the same tradition, Vortex brings Vortex Optics Diamondback Tactical Riflescope which is a welcome addition to this list.
Vortex Optics Diamondback Tactical Riflescope is a special scope since the level of durability and toughness remains as other scopes by this brand, however, introducing a tactical twist at the same time. So what you get are precision, brilliant image quality, and sturdiness in the final product.
To provide users a tactical edge, this best scope for .308 bolt action rifles comes with tactical turrets that allow easier handling while doing the long-distance shooting. The scope also features a fast-focus eyepiece with which the reticle focusing has become quicker and easier than ever.
We have often seen how a gun with good recoil loses its charm when an incompatible riflescope is attached to it. To your good fortune, Vortex has taken care of that by adding a shockproof 30mm tube that doesn't disturb recoil or get affected by it.
Moreover, being a hunter who is often shooting in rough weather conditions, you will be charmed by the fog and waterproof design of this riflescope. Plus, it is certainly one of the best riflescope deals available right now.
Why should you buy Vortex Optics Diamondback Tactical Riflescope?
The perfect blend of precision, quality, and value, all offered at an affordable price.
The rugged design, good range of zoom, and spot-on parallax settings.
It doesn't have the sharpest glass, however, it still, deliver a very clear image.
Just the ideal zoom range between 4x and 16x makes it ideal for medium to long-range.
Pros
Fog and waterproof design
Great for medium to long-range
An affordable riflescope
Crisp and clear image quality
A shockproof 30mm tube
Cons
Glass quality could be better
Sniper KT 12-60X60 SAL Long Range RifleScope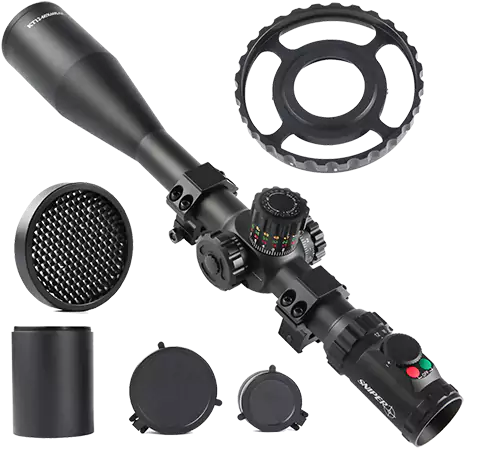 Talk to any seasoned hunter and boost all about the features of a riflescope you are marketing to him, and he would only ask you; does it have a solid build? Well, this is exactly what we had in mind when we were introducing Sniper KT 12-60X60 SAL Long Range Rifle Scope to the list.
Go through any number of riflescopes and they will have similar features that all perform well. However, there are rare instances when a riflescope is mounted so easily, has solid construction for hunting out in the field, and still offers a price like this Sniper KT Riflescope.
We have got to test this on two different 308 rifles and weren't disappointed at all. It is mounted with perfection without needing an extra mount that is a problem even posed by some riflescopes costing over $2000. Moreover, passing the parallax text was a piece of cake without any reticle wandering.
Being a seasoned hunter, you would like to adjust windage and elevation settings according to your needs. However, there are default windage settings as well that can stay locked making the experience easier for beginners.
Besides the solid and sturdy construction, this best scope for .308 riflescope has a beautiful design that gives your rifle a whole new look. Moreover, while providing up to 60x zoom, this riflescope certainly knocks it out of the park for long-distance shooting.
However, when you max out its zooming capacity at 60x, you might have chromatic aberration, however, that can be toned down a little. Moreover, there are rare instances when you need that much zoom even during long-range shooting so most hunters are not going to feel that.
We made a quick graphic showing the optical clarity of the scope – which is by far superior to many of my other scopes. At full magnification, the image is fuzzier, and chromatic aberration is visible, which is one of the downsides of this otherwise magnificent riflescope.
There are better options than Sniper KT 12-60X60 SAL Long Range Rifle Scope as well, however, they are all between $1000 and $2000 and this riflescope priced under $500 is certainly worth the money. It can feel a bit clunky with some specific rifles, however, those cases are rare.
Why should you buy Sniper KT 12-60X60 SAL Long Range RifleScope?
This riflescope has solid construction making it a perfect scope for hunting fields.
With a zooming capacity of up to 60x, this riflescope is the perfect candidate for long-range.
It has a one-piece mount that makes the scope a perfect on-the-go option.
The Sniper KT Riflescope provides great parallax adjustment settings.
Pros
Durable nitrogen-purged body
Solid waterproof construction
Finger adjustable turrets
Comes in beautiful packaging
Provides great value for the money
Cons
Chromatic aberration at 60x zoom
TRUGLO TRU-BRITE 30 Series Illuminated Tactical RifleScope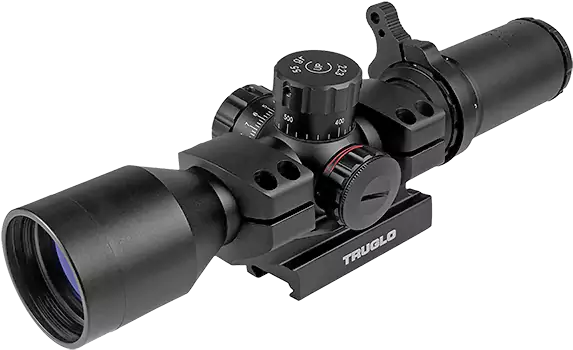 The final pick on the list is rather traditional; however, it is an excellent pick for limited features and budget range. We usually want from a good riflescope for the money are speed, precision, and clarity. Now, TRUGLO TRU-Brite 30 Series 1-6 X 24mm Dual-Color Illuminated-Reticle Rifle Scope seems to deliver that quite well while taking care of the field of view and bright image quality.
Though it is quite rare to get separate controls for click and brightness adjustments in this price range, this TRUGLO Riflescope delivers on point. When it comes to the design, it is no different from our previous pick; however, even affordable, bringing an excellent waterproof build and fog resistance by using the same nitrogen purging mechanism that we have introduced before.
You have both 1-4 and 1-6 magnification options available; however, it is quite evident that most users will root for the latter. But, if we are not talking about very long-range shooting requirements, the first magnification option handles accuracy very well. Moreover, it has a 1x magnification option that allows you to shoot faster without having to close an eye to aim.
TRUGLO TRU-Brite 30 Series Illuminated-Reticle Rifle Scope brings a wide field of view, allowing you to see a lot better than the previous pick. Based on these better features, we can say that going for this product bids even well for the user. Moreover, it holds zero much better, even at longer ranges. Most users faced no problems with that even when they went up to 500 to 600 yards.
This black tactical 30mm 3-9×42 Illuminated Scope includes two removable BDC target turrets in .223 and .308 calibers. The reticle, which can be used in black, without illumination, can accommodate targets up to 600 yards away. Though make sure that the package has everything when you receive this at your doorstep.
Why should you buy TRUGLO TRU- Illuminated-Reticle RifleScope?
This best scope for .308 bolt action rifle is available in both mid and long-range options
What is best about this affordable riflescope is its zero that holds well on long ranges
Close and long-range shooting has been enabled well with 1x magnification
Remains entirely accurate even when you are aiming with two eyes open
Pros
Fog-proof and shock-resistant
1x magnification available
Easy click adjustments
Brightness adjustment knob
Easy to focus and well-holding zero
Conclusion
And with that, we shall conclude our reviews of the best scopes for .308 rifles by recommending Vortex and Sniper KT Riflescopes as our top two recommendations. However, your choice may vary depending on your budget and the special features that you may require.
The price difference between all products on our list is not much as compared to most long-range scopes so it is better that you opt for the one with better features instead of the price.
Leave us most of your queries about these best scopes for .308 rifles and we will get back to you as soon as possible. Check out our website for more exciting tactical equipment reviews, cheers!
Frequently Asked Questions
What is the best scope for a .308 Bolt Action Rifle?
TRUGLY Brite 30 Series, Vortex Crossfire II, Sniper KT Riflescopes all are good; however, Vortex Optics Crossfire II is the one that is dominating the market right now.
Is 50mm Scope better than 40mm for a .308 bolt rifle?
50mm scope is better than 40mm because of the higher resolution, more light coming in, and also has a bigger exit pupil. However, 40mm are still more popular due to their high precision in long-range shooting. The tube diameter does not have any effect on image brightness though.
What scope size is suitable for a .308 rifle?
Any 20mm to 30mm tube size is perfect for a .308 bolt action rifle; however, you should focus more on finding one with better windage, zero, and elevation.