Whether you are a hunter or just shoot as a sport a scope for your .22LR rifle is of utmost importance as that helps you determine how accurately you hit the target. I know the .22LR rifle is accurate enough, but you can take its accuracy to the next level by using a good scope. A scope helps you to zoom in on your target and lock it precisely on where you want your shot to land (of course you know). Choosing the best scope for your .22LR rifle depends upon your personal preference and your shooting needs and of course your budget. It is often a daunting prospect as there is a wide range of rimfire rifle scopes available in the market offering a wide range of features.
Depending on your budget .22LR riflescopes are available in a wide price bracket from$40 up to thousands of dollars. Buying an expensive scope sometimes might be a waste of money because your purpose might be solved by buying a cheap rimfire scope. That's why We are going to review the top 5 rimfire scopes that come under $200. Buying a high-end rimfire scope does not necessarily mean that you get better results. So get your money's worth and buy a rimfire scope that suits your requirements perfectly taking into consideration the features that are offered by each product.
Best Rimfire (.22LR) Scopes
Nikon PROSTAFF RIMFIRE II 3-9X40 Matte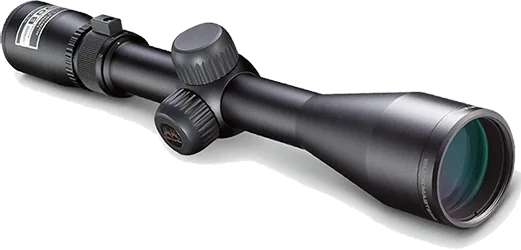 This particular model has been developed for the trajectory of hypervelocity.22 rifle rimfire rounded as one of the top rimfire scopes under $100. This is a fantastic choice for beginners who are on a tight budget. So what's a better scope than the Nikon Prostaff Rimfire II 3-9×40 BDC150 which has been tried and tested?
New Precision for Rimfire Rifles
This rimfire comes with a perfect optic for long-range guns and provides for accurate shooting along with complete enjoyment and thus is popular among shooters.
Nikon's BDC 150 Reticle
This BDC 150 reticle has been specifically designed for shooters to hunt at extended distances for accurate target hitting. This reticle has unique transparent ballistic circles that provide an amazing advantage to long-range shooters, also allowing a normal sight picture for short-distance shots where the crosshair itself is the target. It comes with drop markings of 50,100 and 150 yards that give you good control over a standard rimfire range.
Multi-coated Optical System
Every glass surface has been coated with multiple layers of anti-reflective compounds that contribute to bright and vivid pictures and maximum light reflection from dawn to dusk.
Spring-Loaded Instant Zero-Reset Turrets
To make field adjustments easier Nikon offers this feature in the riflescope. Just sight-in and then lift the spring-loaded adjustment knob, rotate it to your zero, and re-engage. In the same simple way, field adjustments can be made by dial-in your subsequent range.
Spot on Ballistic Match Technology
This spot-on ballistic technology of Nikon allows you to discover the exact aiming points on the scope's reticle for specific ammunition and load at various yards making target acquisition easier.
Parallax
The scope is set to be parallax-free at 50 yards. Further to that, there are two adjustment turrets for windage and elevation.
Precise, ¼ inch @50 Yards Hand Turn Adjustments
The positive click reticle adjustments get you zeroed in faster and help you maintain your settings even with heavy recoil.
Waterproof/fog-proof
This particular scope is nitrogen-filled and O-ring sealed thus it performs extremely well in not-so-ideal weather conditions that might be encountered while hunting.
Lifetime Repair/Replacement
The Company offers a lifetime repair and replacement but this excludes lost or stolen products and damages caused intentionally.
Simmons Truplex
This is America's most popular rimfire scope and is a reliable and rugged apt for any hunting application. This Budget Magnum Rimfire Rifle Scope delivers big game performance, is easy on the pocket, and is a good buy offering a multitude of features.
One Piece Tube
This scope comes as a one-piece tube constructed for lighter handling. It offers greater strength and durability.
Fully Coated Optical Glass
The optical glass is made of a hydro shield lens fully coated and made of high-quality material to give sharp and bright images and high contrast.
Parallax
Parallax correction offered by this model is present from 50 yards to infinity
Turrets: The turrets give positive clicks that make you realize that you are getting on target with each and every shot.
Eye Relief
This scope has the Quick Target Acquisition (QTA) eyepiece with 3.75 inches of eye relief for quick and instantaneous sight pictures.
Dovetail Mounting Rings
This scope comes with 3/8" dovetail mounting rings.
Waterproof, Fog-proof, and Shockproof
The scope is shockproof, waterproof, and fog-proof making it dependable in adverse situations.
Suregrip Rubber Surfaces
The scope has Suregrip rubber surfaces due to which adjustments are simplified under different conditions.
Sightmark Core SX 3-9×40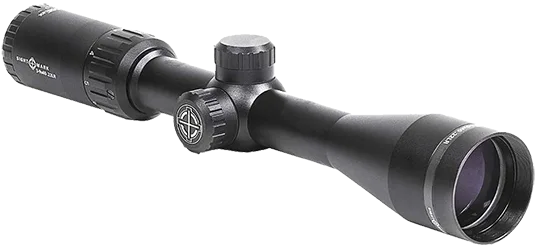 This scope series has been designed to offer a multitude of features keeping in mind the need of the shooters and is the best rimfire scope under $100
Single-Piece Tube
The scope is a single-piece one-inch tube made from aircraft-grade aluminum. It has a hard-anodized finish.
Reticle
The reticle holdover points out to 200 yards and so is perfect for game hunters and target shooters. This scope has a .22 LR BDC reticle calibrated for 40gr standard velocity and 29gr high velocity that increases accuracy.
Resettable Capped Turrets
This scope comes with resettable capped turrets that make it more resistant to being accidentally rotated or knocked over. Thus it allows users to make adjustments only when the turret has been removed making it ideal for hunters.
Multi-Coated Optics
Due to this feature offered the glare is reduced and therefore there is a better light transmission and sharper contrast.
Eye Relief
The scope has an eye relief of 40mm.
Winbest 3-7×20 mm 30/30
Winbest can be used for different purposes, such as a small game or competitive, recreational target shooting scope. Apart from this, it can be used for pest control as well. However, the riflescope has the multi-features which make it easy to use and ideal for hunting
Matte finish and Full coated optics
The rimfire scope has a matt finish and complete coated optics. Apart from this, it has the parallax free at 50 yards so it can fit the shorter rimfire ranges which offer a rimfire around 30/30. It has a length of 10.5, a magnification of 3-7 x and an objective lens around 22 mm. With this, you get the windage and elevation turrets too
Easy adjustments and design
The design of the scope is especially for the rimfire riffles which are for small bore. Also, it has the ¼ MOA adjustments, and standard 3/8 dovetail rings too. It can be used for competitive as well as varmint type of hunting
TASCO MAG39X32D – .22LR Riflescope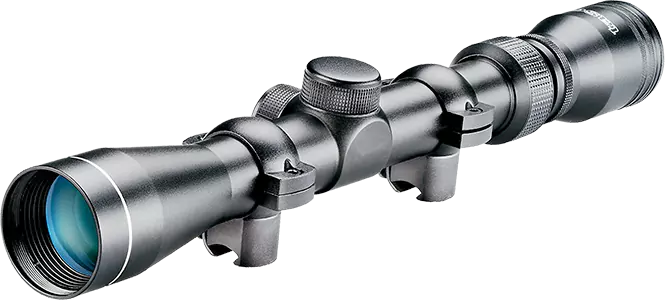 One of the best performance-based rimfire series, which is highly recommended by professionals. However, this rim is basically for bringing out the best during hunting, punching paper targets, and plinking.
Designed beautifully and durable
The rimfire has the perfect balance when it comes to design and durability, which makes it better for hunting. It keeps the rimfire scope durable, and the design keeps the use simple and hassle-free. It features the full-sized, 50-yard parallax setting, 1-inch advanced monotube construction, etc. Apart from this, it tailored made which is suitable for .22 rimfire rings.
Magenta multilayer coating lenses
The rimfire has a multi-colored lens coating, which makes the changing of lenses eliminated from the process. Not just it saves time but also cuts down the hassles as well. Also, the lenses are completely coated, which gives better image quality. You can get the images with a clear and bright combination without affecting your eyes.
Safe and protected
The rimfire is completely protected as it comes with waterproof and fog proof so your hunting should never get rained out. Also, the scope has the matter fished. Along with that, it has a bright, wide range and clear image. It helps your interest in hunting so you can enjoy it more
Magnification, objective lenses and many more
The Tasco is offering the durable rimfire scope which mange to keep the hunting easy and sets the target hassle-free. Not just for making the complete process fun and interesting, but it also balances the image and target. You get the objective lenses about 32 mm and magnification of 3x to 9x. It's affordable and has the needed features to make the rimfire best for your experience.
BARSKA 3-7×20 – Rimfire Riflescope

Well, Barska has the entry-level model, which is especially recommended for those who aim for competitive and recreational target shooting. It has the hunting scopes and versatility on its top of the line which makes the option best for serving its purpose. Apart from this, the rimfire scope has the quality to keep the use for the long term.
Ideal for close, medium-range shooting
It has the 3 to 7x magnification that comes with the objective lens of 20 mm. Due to this, it has good results in close-to-range shooting. The performances of the rimfire are extra well if its ranges between 50 to 80 yards. Also, if the year is up to 100 marks, it can struggle little but.
Quality and decent optic
The quality of the overall product is decent, and also it has a price range, which is affordable for everyone. Along with that, the scope has the clear and successfully deliver the image with quality through its glasses, however during the dark, it can struggle little, but the product delivers the best performance as compared to the price you pay for it.
Easy to use
The best strength of the Barska is it's easy to use. In mounting, you will not have any issue as it can suit any kind of scope. After you are done with the mounting, you can simply use it as the hold is petty strong. Also, the windage and elevation adjusters have a nice positive click when you turn it on, and also you can direct it according to your need.
Magnification and light weighted
The overall weights of the rimfire scope are 4.8 ounces and it's 11.5 inches long. Also, it has a design that is rugged, and thus it makes it best for the hunters. It also has solid metal so it can be durable. Due to the lightweight, you can use it simply without stressing yourself out.
Lots of added accessories
Along with the products, you also get different kinds of accessories. It includes the weaver rings; cleaning cloth and eyepiece covers. You can use it for a hassle-free experience and interesting hunting.
Bushnell Optics Drop Zone-22 BDC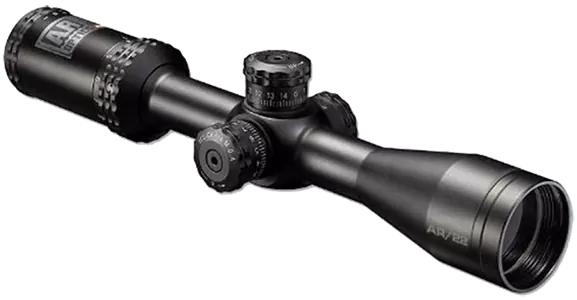 Well, Bushnell optics is one of the most known companies and is considered an ideal option for making the shooting thrilling. Apart from this, Bushnell is also a recommended choice when it comes to the best rimfire scope in the market. The company has a good reputation, and they are offering a reliable as well as accurate Bushnell rimfire scope.
Fast, focused eyepiece
When your target is moving, you need to be fast. No matter it's for combat or for hunting, getting the possible best sight of the target is important, so you get your best shot. Also, when it comes to target shooting, this feature is a must-have. It's also known for the best 22lr scope for target shooting; it becomes much faster as well as easier to get the target when it keeps moving.
Multicoated optics and Sharp clarity
In case of brightness, the help of the fully multicoated and anti-reflective optic in the making the light transmissions also allows a bright as well as a crisp image during a wide viewing range condition. The business optics comes with multicoated optics so it can balance out the increased brightness and contrast in the image
Side focused adjustments parallax
With this, it becomes earlier to target for shooting. Also, the parallax refers to the movements that the shooter does while shooting, including moving his head in up and down or side to side direction. Not just the features help in keeping the target steady and focused but also it allows the shooters to make the adjustments.
Quality
This High-End Rimfire Scope is made with aluminum alloy and has an anodized finish. It is sealed completely to make sure that the elements are well protected and stay high durable.
Leupold VX-Freedom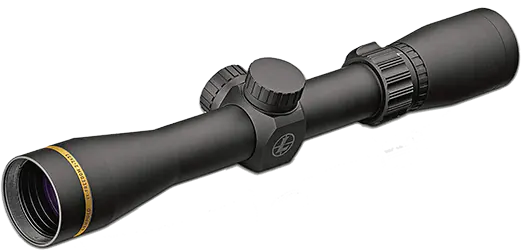 Leupold offers the optics which are best in class and come with accuracy that is impossible to beat. It has a matte finish that makes the look of the rimfire scope appealing as well as attractive. It offers everything that anyone can dream of, including machines, designs, and standards. You can find more Leupold rimfire scope reviews here.
Highly durable and protected
The model is considered ideal for various cases, including it comes within the list of top rimfire scope under $200. Apart from this, the rimfire scope is made with top-quality aluminum of 6061-T6 aircraft. Also, it's tested to assure its lifetime performance. The scope is completely fog and waterproof. To make it projected, it's also had shockproof features.
Twilight light management
Leupold twilight management systems help in delivering the brightness as well as clarity in light transmission balancing. It also includes the reduction in glares, contrast in the image as well as a resolution to deliver the crisp image without caring about the conditions in light.
Lenses are scratch resistance
The lens surface is delivering the military standard by offering scratch resistance extreme basic specifications.  It helps them in using the scope for years and years without getting any dent despite any kind of falls. Also, the rimfire scope is assembled, designed, and machined within the USA.
Parallel and ¼ precise MOA finger click adjustment
The precise ¼ MOA finger click adjustment helps during the wide range and offers dependable as well repeatable use over its complete performance. Parallel adjustment, whereas adjusting for the shooters and their direction according to the target in the shooting.
Nikon ProStaff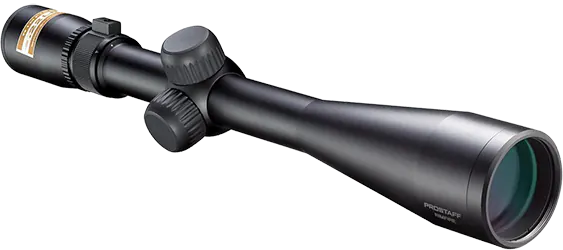 Nikon rimfire scope offers fun and accurate options to get better performance. They also have the Budget Magnum Rimfire Rifle Scope with quality. Well, they have multiple features that cover the requirement and need.
The complete multicoated optical system
The surface of the glass is coated with multiple layers of a compound which are anti-reflective. It helps in providing the vivid, bright, and transition in light on optimum covering the dawn to dusk.  Well, the scope's eye relief is around 3.6 inches, it's short.  It is also recommended for the best scope for 22lr bench rest as well.
BDC 150 Reticle
BDC 150 Reticle is designed especially to compensate the bullet drop for the shooter at extended distances. The Reticle has ballistic circles with see-throughs offering long-range shooting advantages. Also, you can do it at normal picture sight for shots that are short-range where the aiming point is crosshair itself.
Ballistic match technology
Nikon's rimfire scope allows the shooter to have the spot the exact aim for the shooters. It includes specific loads and ammunitions at various yardage to discover the aiming points. With the ballistic match technology, the shooter can easily set their target for the shoot.
Compact and lightweight
The overall weight of the rimfire scope is 13.6 oz. Also, this comes with a compact design with waterproof, shockproof, and fog proof. It also has nitrogen purged and sealed O-ring for keeping it safe from various kinds of things and uplift its 3X to 9X magnification and great performance
Leupold FX-I Rimfire – A High-Grade Duplex Scope for Rimfire Rifle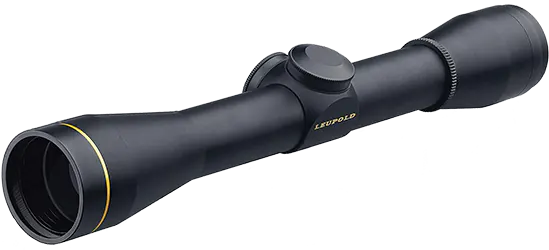 A high-quality variable scope is perfect for any situation. Although it is a midrange rimfire scope, it is well worth the price spent on it with the wide range of features offered by it.
Magnification
The fixed magnification offered gives the same optical quality in a lighter package at a lower price. It has a 4X fixed magnification scope which is excellent for small game hunting.
Lens
This scope hasa28mm objective lens which is comparatively small but the multi-coated optics makes the most of the light that enters the scope. For higher light transmission and a greater level of abrasion resistance, the exterior lens is treated with DiamondCoat 2 which is an ion-assist coating. It gives greater brightness, clarity a contrast.
Duplex Reticle
The reticle here combines both finer and thicker crosshairs thus the thicker outer posts help to acquire targets faster while the thinner central section allows for precise aiming at long ranges.
One Piece Tube
This scope has a one-inch main tube that is lightweight and fits more legacy rings and is durable and compact.
Waterproof, Fog-proof
The scope is completely waterproof and fog proof and is ideal for adverse weather conditions that may be the case many a time while hunting. The scope is made with Leopold's nitrogen sealing process and the lenses are O-ring sealed.
Eyepiece
This scope's eyepiece is a classic standard fast focus one with a low-profile lock ring that makes reticle focus easy to achieve and maintain.
Eye Relief
The scope boasts of a generous eye relief of 4.5 inches that allows the hunter some flexibility for where on the rail the scope is mounted and gives you an outfit for comfortable shooting.
Micro Friction Dials
The scope's micro-friction dials are marked in ¼ MOA increments clicks for easy windage and elevation adjustments.
The Importance of a High-Quality Rimfire Rifle Scope
There are a lot of hunters and shooters who will spend a lot of money on good rifles but will not bother about buying a scope. The scope is important to buy if you are a serious shooter. You can certainly manage by not mounting one on your rifle. But this will definitely limit you as you will only be able to shoot at close range and the level of accuracy that you need, will not be there. A high-quality scope should also be the best budget rimfire scope and possess some of the following features to help you enjoy your hobby more.
While some rifle scopes have fixed power magnification others have variable power magnification. Scopes with variable power magnification help the shooter to achieve a higher level of accuracy and different ranges which scopes with fixed power magnification do not.
Low-profile turrets are common in most.22 LR-specific rifle scopes. The high-profile turrets make it easier for the shooters to adjust the point of impact for different ranges and easily come back to zero points.
Shooters have to withstand all types of weather conditions, thus the scope should be waterproof and fog-proof. Most scopes are purged and then filled with nitrogen. Some scopes are filled with Argon/Krypton gas mixture which is a better choice as this makes them less likely to migrate from the hypertonic atmosphere inside the scope tube to the hypotonic atmosphere outside the tube.
The rifle scope should be durable and made from high-quality material that can endure different environmental conditions. The scope should be lightweight as it will be placed on a .22 rifle which is lightweight and so a heavy scope can throw off the balance.
The lens coating in a scope affects the amount of light transmitted through the scope tube and the clarity of the picture. There are four types of coatings available. The simplest coating is the one called 'coated', which is just a single layer coating applied to the objective lens which controls the glare and the amount of light that enters the scope. The 'fully coated' have a single layer of coating on all optical surfaces. 'Multi-coated' lens has several coats of different chemicals applied to the objective lens of the scope. The 'fully multi-coated lens has each lens coated with multiple chemicals to increase the brightness in the scope. The scope with many layers of coatings has amazing picture clarity and is also more expensive.
What Magnification do you need in rimfire scopes?
Magnification depends upon the type of shooting you need to do. Magnification is a great tool to make your target appear larger and clear so that you can attain the ultimate shot. If you are hunting, then you will need a lower magnification setting depending on the size of your target and the distance. For target shooting, on the other hand, you will require a higher magnification also depending on your target and support.
Magnification can be fixed or variable. Some people prefer fixed power scopes because they are simple to use and have fewer moving parts and are less complicated. These scopes are powerful and reliable. If you have to use the same rifle for different shootings like long-range or a short distance on the same day it is not feasible to carry multiple scopes. In such a case the variable setting scope is a better option. These scopes offer changeable settings in 4x, 5x, and 6x. The disadvantage of using the variable setting scope is that the image is not as sharp as that of a fixed power scope and that they are also usually more expensive and also fragile due to the multiple lenses.
Conclusion
The different aspects of scope have been discussed in detail along with the mention of a few choice products and their features. It is also important to take into consideration that any modern well made rifle scope will have to be durable. They are made with high-quality materials and the only failures are generally caused by accidentally dropping the rifle on a hard surface which can result in a dent in the scope tube or crack one of the lenses.
The price of any product is not always a measure of the quality offered by it. Purchasing the best rimfire scope for your .22 LR rifle is dependent on the features which are more suited for you and then deciding whether it suits your budget. We hope it helps you in reaching a decision to purchase a good Rimfire Rifle Scope.