Whether you are a seasoned shooter or new to long-range shooting, you can't accurately land a shot with the bare eye when the target is more than 500 yards range. You need the assistance of the best sniper scopes that will not only correctly guide your bullet to the target but will also compensate for windage and parallax. Having the right sniper scope for your gun will not only elevate your accuracy but will also allow you to cover more range and have a clear sight of your target. However, when it comes to choosing, you will get confused between range, power, reticle, etc.
Top 5 Best Long Range Sniper Scopes Reviews
So with our review of the best sniper scopes, we have tried to make the selection task a straightforward affair for you.
| Award | Design | Scopes | Retailer |
| --- | --- | --- | --- |
| Best Hunting Scope | | | Check Price |
| Best Fixed Power Scope for Long Range Shooting | Best Pick | | Check Price |
| Best Long-range Scope under $500 | Staff Pick | | Check Price |
| Best Long-range Scope on a Budget | | | Check Price |
| Best Long-range Sniper Scope under $200 | Budget Pick | | Check Price |
Leupold VX-5HD 3-15x44mm Side Focus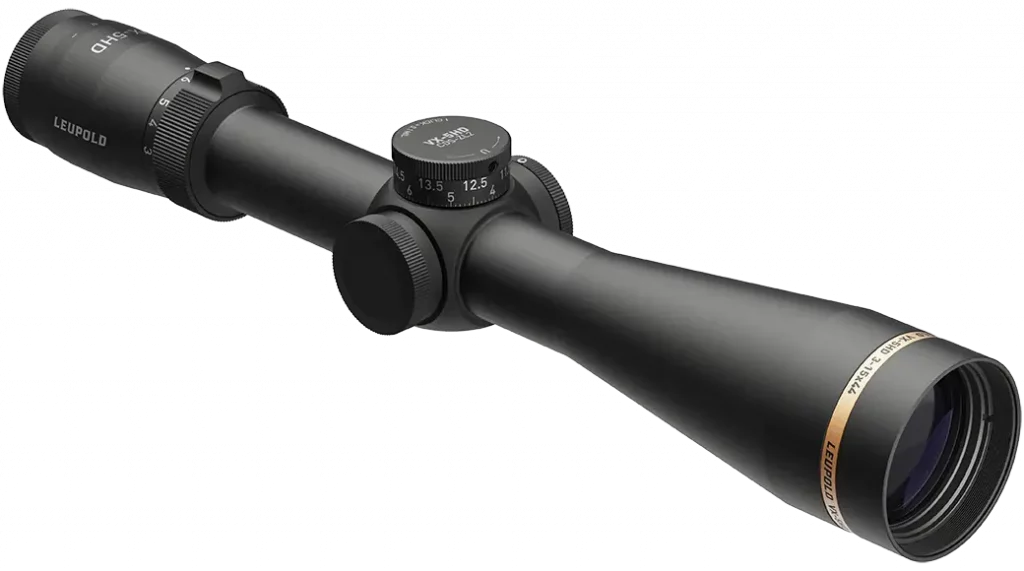 Best Hunting Scope
Our first pick for the best long-range snipe scope list, Leupold VX-5HD 3-15x44mm Side Focus Riflescope, is about two things; versatility and range. The range of the scope comes from the vast magnification range, i.e., between 3 and 15. This range makes this scope a perfect choice for both hunters and shooters.
Moreover, the versatility of this Leupold Riflescope allows you to adapt to different situations and environments. If you are a seasoned hunter or shooter, the high-dynamic light ranging gives you various lighting options. When a riflescope offers so much versatility and ruggedness, this is the product you should be getting to embark on a new adventure.
While everyone looks forward to having a perfect aim on the target, they want technology to help them. Now, Leupold's Side Focus Riflescope has plenty of those options, including a fast-focus eyepiece that allows you to focus quickly, a rear focal plane, and an ultra-lightweight design that is durable yet easy to control.
Being someone who has a little know-how of the riflescopes, you will undoubtedly consider whether a product is Punisher Tested or not. As for the Leupold VX-5HD 3-15x44mm Side Focus Riflescope, it has been Punisher Tested and is made to last at least 5,000 strokes after a lot of testing and design improvements.
The Rear Focal Plane of this long-range sniper scope makes it the best hunting scope, providing minimal cover while targeting high power. Not just that, this scope allows the ballistic reticle tunning since the subtensions change as you keep zooming.
Leupold VX-5HD 3-15x44mm Side Focus Riflescope is meant for survival in the wilds, all thanks to its ultra-light design, fog-proof, and waterproof features. Also, you get the product at an affordable price that is pretty great compared to the market competition.
Why should you buy Leupold VX-5HD 3-15x44mm Side Focus Riflescope?
The fast-focus eyepiece allows quick zooming and focusing, which makes targeting easier.
Made to last in any conditions with the waterproof, shockproof, and fog proof design
The best light management system in any scope with its Twilight Max HD Light System
Save battery life with its motion-sensor technology that turns the light off after 5 minutes of inactivity
Pros
Affordable price range
Range and design versatility
Made to survive in all conditions
Fast side focus for any position
Lightweight and durable design
Cons
The electronics are a bit poor
Athlon Optics Ares ETR UHD 4.5-30×56 First Focal Plane Riflescopes
Best Pick
Best Fixed Power Scope for Long Range Shooting
The price jump between the first two products is enormous; however, so does the jump in features. There are hardly any products that do better than Athlon Optics Ares ETR UHD 4.5-30×56 First Focal Plane Riflescopes when it comes to long-range shooting. For that, all the credit goes to its powerful Power X Objective Lens of 4.5-30×56 FFP, making it our 2nd best long-range snipe scope choice.
It is time that you use the quality of a UHD extra-low dispersion glass and uses it to reduce chromatic aberration significantly. These minor technical tweaks can help you achieve a bright and sharp image while maintaining true colors. Also, to make the experience durable, you get an XPL Coating that keeps scratches and dirt away from the lens' surface.
The accuracy and precision become more comfortable to get with its Precision Zero Stop System so that you can return to zero position without going through those hard dial settings. The accuracy is too high while stopping at the zero points, which introduces a considerable improvement in the accuracy and precision while using this scope on your gun.
Athlon Optics Ares First Focal Plane Riflescope is also quite useful when you consider the product's electronics. The optics are multicoated, allowing you to reduce reflected light for good. As a result, the image will be a lot brighter than what you could get even with a brand like Leupold. This best long-range snipe scope will undoubtedly restore your confidence while hunting.
Let us talk about its First Focal Plane Reticle for a moment. Well, it has been fully automated that shrinks to provide better focus on a target while you are zooming in and out. The overall shooting experience gets enhanced by a combination of premium features, including Travel-Per-Rotation Turrets, True Zero Stop, Extra-low Dispersion Glass, advanced multicoated optics, and FFP.
Athlon Optics Ares First Focal Plane Riflescope has a unique and lightweight design making it a perfect traveling companion. It has waterproof and shockproof features that can withstand any challenging environment when you are out hunting. However, a price reduction is long due since it has been keeping it out of the range of many seasoned hunters.
Why should you buy Athlon Optics Ares ETR UHD 4.5-30×56 First Focal Plane Riflescope?
Your chance at achieving high accuracy and precision with its multicoated lens
Make the lens last long with the XPL Coating providing dust and scratch resistance
The premium Precision Zero Stop System for an easy dial down to zero
Use its UHD glass to achieve extra-low light dispersion
Pros
UHD Glass with Extra-Low Dispersion
The advanced lens coating system
Easy dial down to zero
34 mm tube size
Cons
Expensive
Zero does not hold at very long ranges
Vortex Optics Strike Eagle Second Focal Plane Riflescope
Staff Pick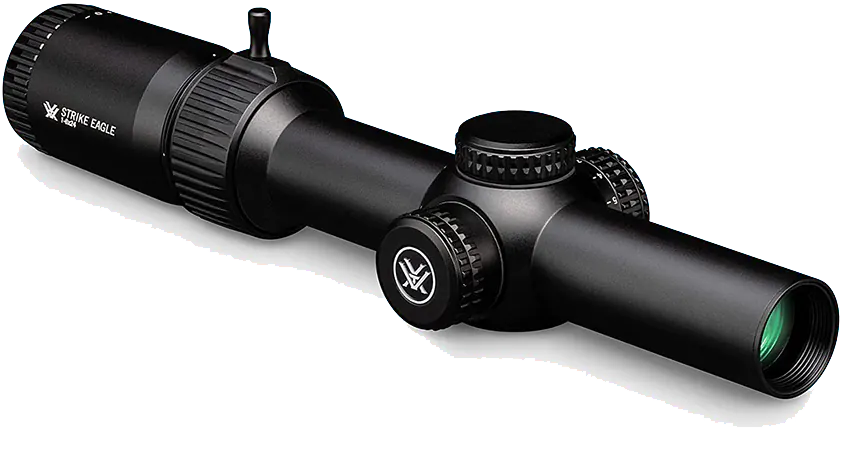 Best Long-range Scope under $500
Vortex Optics Strike Eagle Second Focal Plane Riflescope brings short-to-long range shooting experience for beginners and seasoned shooters. It is designed for rather technical executions of difficult shots while utilizing the full strength of its 4-24×50 scope. Not just that, this best long-range snipe scope keeps the performance repeatable with its reliable quality design.
Once again, Vortex brings what it is best known for; versatility and speed. The optical mechanism of the scope best suits AR Shooters who want to engage their targets at various ranges. That goes from point-blank out to extended ranges; you can engage them and make the best out of this Vortex Optics Strike Eagle Second Focal Plane Riflescope.
The versatility gets further enhanced with the 6x zoom on this riflescope, providing a wide range of shooting options for hunters and seasoned shooters. There are lighting and brightness adjustment options to adjust brightness at 11 levels with a convenient side knob that makes the whole operation more comfortable.
Besides ease of use and versatility, Vortex Optics Strike Eagle Second Focal Plane Riflescope brings somewhat better electronics than the Vortex Riflescope that we introduced earlier. It uses the same CR2032 battery; however, it provides better built-in illumination to get a clearer image, further improving shooting accuracy.
Not just that, since it has a single 30mm tube that can handle recoil and impact so well, you will instead be working on improving your aim and hitting targets. Vortex Optics Strike Eagle Second Focal Plane Riflescope also brings the same fog-proof and waterproof performance that allows you to use this long-range sniper scope in any condition.
Why should you buy Vortex Optics Strike Eagle?
The Strike Eagle Riflescope by Vortex brings an affordable and easy-to-use experience
It is both for beginners and seasoned AR shooters who required speed alongside accuracy
Focus more on shooting and accuracy instead of recoil and compact with its single-tube design
This riflescope brings ease and convenience while adjusting zoom and brightness
It is made to withstand all conditions with its beautiful fog-proof and waterproof build
Pros
Made for speed and versatility
Helps you improve accuracy
Good for AR Shooters
An affordable deal
Great waterproof performance
Cons
Limited zooming
No Zero Point System
Bushnell Engage Riflescope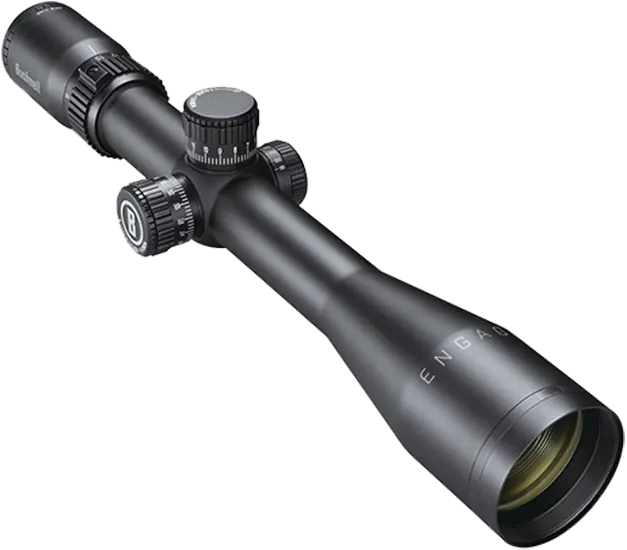 Best Long-range Scope on a Budget
When you have only basic shooting requirements, even a low-budget riflescope can cut it for you. Bushnell Engage Riflescope is one option you can utilize; however, most people would only go for it when running low on budget. Though, what still makes it one of the best long-range sniper scopes is all required features that are not premium but get the work done.
For instance, Bushnell Engage Riflescope brings the protective lens coating that will make your lens last longer regardless of the dust, fog, water, and other external factors. Its sleek, lightweight, and waterproof designs make it one of the most durable products. Though it is mostly recommended for short to mid ranges, it somewhat exceeds in entering the long-range territory.
Now, instead of providing those premium controls for adjusting brightness and reducing chromatic aberration, Bushnell Engage Riflescope manages that by providing an anti-reflection coating in the design. This technical trickery was necessary since otherwise, it would be one of those expensive scopes out of your budget.
While the features are limited, they are designed for ease of use, making it a perfect beginner riflescope. For instance, dialing down the brightness, adjusting focus, and zooming in & out becomes more comfortable with simple and convenient knobs. Moreover, the high-quality glass used in the making makes the vision clearer, allowing you to engage your targets better.
In short, Bushnell Engage Riflescope brings an excellent low-budget riflescope option, which has every essential feature that you need to get started with your mid-to-long range scope. Moreover, it is backed by the ironclad warranty provided exclusively by Bushnell.
Why should I buy Bushnell Engage Riflescope?
With Bushnell Engage Riflescope, you do not need any extra tools for releasing turrets.
A durable design that is made to provide resistance against fog, water, and dust.
Get the optimal brightness due to the anti-reflective coating in the design
The manufacturers have used nitrogen purging to provide fog-resistance, and it works well
Pros
Easy-to-use & engaging
Good mid-to-long range scope
An affordable long-range riflescope
Easy dialing and zooming features
Cons
Substandard long-range options
The thin and non-existent reticle
TRUGLO TRU-Brite 30 Series 1-6 X 24mm
Budget Pick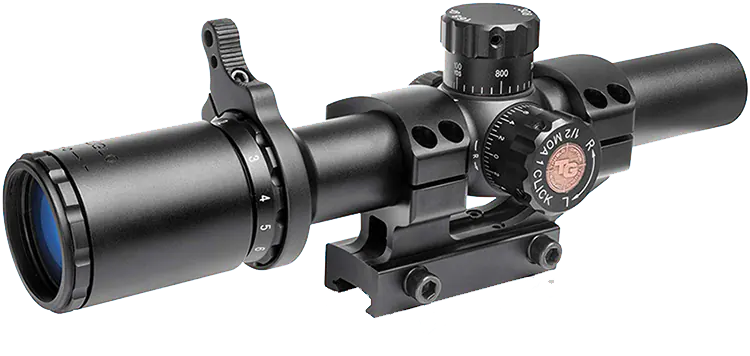 Best Long-range Sniper Scope under $200
The final pick on the list is rather traditional; however, it is an excellent pick for limited features and budget range. We usually want from a good riflescope for the money are speed, precision, and clarity. Now, TRUGLO TRU-Brite 30 Series 1-6 X 24mm Dual-Color Illuminated-Reticle Rifle Scope seems to deliver that quite well while taking care of the field of view and bright image quality.
Though it is quite rare to get separate controls for click and brightness adjustments in this price range, this TRUGLO Riflescope delivers on point. When it comes to the design, it is no different from our previous pick; however, even affordable, bringing an excellent waterproof build and fog resistance by using the same nitrogen purging mechanism that we have introduced before.
You have both 1-4 and 1-6 magnification options available; however, it is quite evident that most users will root for the latter. But, if we are not talking about very long-range shooting requirements, the first magnification option handles accuracy very well. Moreover, it has a 1x magnification option that allows you to shoot faster without having to close an eye to aim.
TRUGLO TRU-Brite 30 Series Illuminated-Reticle Rifle Scope brings a wide field of view, allowing you to see a lot better than the previous pick. Based on these better features, we can say that going for this product bids even well for the user. Moreover, it holds zero much better, even at longer ranges. Most users faced no problems with that even when they went up to 500 to 600 yards.
Why should you buy TRUGLO TRU- Illuminated-Reticle RifleScope?
This best long-range sniper scope is available in both mid and long-range options
What is best about this affordable riflescope is its zero that holds well on long ranges
Close and long-range shooting has been enabled well with 1x magnification
Remains entirely accurate even when you are aiming with two eyes open
Pros
Fog-proof and shock-resistant
1x magnification available
Easy click adjustments
Brightness adjustment knob
Easy to focus and well-holding zero
FSI Sniper – One of the Best Sniper Scopes
A highly rated sniper scope from the brand Sniper is 6-24X50mm mil-dot optics that has taken the market by a storm. With not well-known brands like Sniper, you might not expect it to be an excellent performance scope initially, but once you install this optic, it will blow your mind. With a massive magnification range of 6X to 24X, accurately targeting a shot more than 600yards range won't be a problem for you.
Its 50mm objective plays a considerable role in ensuring long-range accuracy by providing high-quality resolution and clarity across all magnification range. Comfort is one key factor for extended range shots, and that is why it gets an eye relief of 3.3inch.
Geared with an illuminated Mil-Dot color reticle, it facilitates you to get a clear and vivid view of your target at any light condition. The reticle is powered by a heavy-duty battery that gives out red, blue, and green illumination so that you can adjust your view depending upon the light condition.
The multi-coating in the lens also adds to the crystal clear view through the scope as it facilitates maximum light transmission through the one-meter tube. With 1/4 click value for elevation and wind adjustment, you can stay assured your bullet won't get affected by wind, pressure, or gravity and will hit the target.
There is a reason that many marksmen consider it one of the finest sniper scopes, and the 15 to infinity parallax range serves as the proof. The manufacturer has also offered heavy-duty scope mount with this optics so that you can maintain the zero even if you face a harsh recoil.
The extended sunshade will be highly useful for you on bright sunny days, and your view won't be affected by sun glare. It gets rock-solid construction, meaning it has sufficient durability to run for a long time.
You can use it anytime in any weather condition, and the credit goes to the fog-proof, shockproof, and waterproof design. Instead of providing you a lifetime warranty, it gives you a 100% satisfaction guarantee.
Undoubtedly, CVLIFE 6-24X50 AOE is one of the best marksman sniper scopes we have ever tested. High accuracy performance with its broad 50mm objective lens is the key element of this scope, and thousands of positive reviews serve as the proof. The added clarity and vividness you get using this lens are pretty remarkable, and it lets you quickly get a bright sight of your target at 800yards.
All thanks to its wide 6-24X magnification ranges, it is designed to give you extensive coverage, whether your hunting in the woods or taking part in games.
Unlike other rifle scopes, this riflescope with 3.52inch of eye relief curbs down the chance of any eye damage by a large margin. With an excellent field of view of 28ft at 100yards, you will be flabbergasted with the clear image you will get in almost all ranges.
Its main motto is to give you a clear view even if you are shooting in the dark, and that is why it gets red and green illuminated AOE reticle. It also comes with five levels of intensity for both red and green illumination, thus giving you a good choice of a sniper scope. The mil-dot reticle is backed by a powerful battery that can deliver illuminated view for a long time.
Adjusting the scope based on the external condition is quite easy in this gun, and you will get 1/8 click value along with zeroing elevation and windage adjustment. Zeroing down your target has been made straightforward with its quick tactical lock, which indicates excellent marksmanship.
Based on high-strength aluminum alloy construction, it treats you with immense durability that can stand the taste of time. Despite being a heavy-duty scope, it only weighs around 630gm, so you can expect it not to add much weight to your overall long-range setup. The package contains a 20mm weaver dovetail rail, which is robust enough to maintain a strong bond.
Feyachi RFS-21 6-24X50mm may be designed like just another sniper scope, but it is engineered to give to competition even the best sniper scopes for the money. Built from one-piece superior aircraft-grade aluminum, it will treat you with impressive durability. The body is fully anodized that not only adds to overall build quality but also makes it scratch resistant.
The 1inch tube is totally o-ring sealed and nitrogen-filled, thus making it immune to fog, dust, water, and shock. Easy and fast adjustment is an essential need, especially when you are involved in some tricky task so it 1/4 MOA at 100yards windage and elevation adjustment.
With a high-resolution 50mm objective lens, this high-powered sniper scope is meant to give you military-grade precision as it ensures a razor-sharp view of your target. Moreover, the lens is treated with multi-coating that provides optimum brightness through the eyepiece, even in low-light conditions. Thinking to shoot in the dark? Well, you can easily do it with the help of a red and green illuminated reticle.
It is a battery-powered five-intensity level reticle that facilitates you to change the brightness level depending upon your surroundings and target. Besides illumination, it also serves as a range-finding reticle that allows you to calculate the distance from your target and land your shot perfectly.
Quickly sight and accurately shot your target with its front focus eyepiece, especially when the target is moving in the game or jungle. Like every sniper scope, it also bags an excellent magnification range that traverses from 6X to 24X.
It gives you the benefit of having a proper view of your target at faraway places and aims at the right point. Thanks to its 81.53mm broad eye relief, you won't have to worry about brow damage while having harsh recoils always. Surprisingly, it gets a five-year warranty coverage, which is unbelievable at this affordable price point.
4. SNIPER MT 6-24×50
Sniper Scope for Long Range Rifle
Another top-of-the-line optics from famed brand Sniper is the 6-24X50 AOE hunting scope that has bagged numerous appreciation for its fluidic performance. First of all, the 50mm lens it gets is simply unbelievable, and it will always treat you with a pristine view with proper light intensity.
The lens is treated with advanced multi-coating that enhances overall light transmission and prevents any reflection or glare in the view. Needless to say, your eye will be treated with high clarity and a splendid view from edge to edge. With such a premium lens, you are bound to get a broad field of view, and that is why it provides 15-4ft @100yards.
We can assure you will always have satisfactory shooting experiences while using this one of the best budget sniper scopes. The blue, green, and red color illuminated Mil-Dot reticle will always create the brightest view with a colored aim-point so that you can accurately take a shot.
Moreover, it also gets the last active memory function, auto-off illumination, and quick-reach operation button, which are dedicated to long-range shooting an easy affair for you. Well, you can easily adjust your aim to target within a short time because you will have 1/4 MOA click wind and elevation adjustment along with QTA tactical turret.
However, its 6-24X impressive magnification range takes all the limelight, and it can make the best battlefield sniper scope run for its money. To ensure negligible parallax for excellent long-range accuracy, Sniper has engineered it with 15yards to infinity parallax settings. However, 3.3inch eye relief might not be able to impress, and it is a tad bit less when compared with its competitors.
It is built with A6061-T6 top-quality aluminum alloy and a robust Cardan joint that ensures decade-long longevity without any issue. Most importantly, the 1inch is completely sealed with o-ring and carries nitrogen purging so you can comfortably use it misty morning, rain, or any harsh condition. Unfortunately, you will only one-year limited warranty, which might be a deal-breaker.
5. Sniper brand LT – A Good Quality Sniper Scope
Fancy a tactical new sniper scope that will quench your long-range shooting needs? Well, we present to you Sniper 6-24X50 Tactical sniper scope. Based on aircraft-grade T6 aluminum alloy, it gives you robust build quality that ensures it can hold all the pieces together even after a heavy recoil. It is a well-protected sniper scope as the tube is nitrogen purged and o-ring sealed, meaning it can protect the scope from fog, shock, and water.
Even though it is highly durable, it is quite lightweight and weighs only 2.5lbs. While zeroing your target, you can keep your eye at a safe distance of 3.5inch, and you will still get a proper view.
Being a long-range scope, it lets you cover targets from 6x magnification to all the way up to 24X, thus giving your prowess to get precision at long range. During scoping, you can use the 1/4 MOA click wind and elevation modification facility to guide your bullet to the target accurately.
You can even QTA tactical turret to make any quick adjustment without losing sight of your target. It gets a large field of view range of 16inch-4inch that is adequate enough to have a precise shot without getting a blurred view. The second focal plane will also assist you in extended-range shots as it will keep the reticle size the same.
You can utilize the sniper throughout the day without worrying about the light condition, and it is due to a blue, red, and green illuminated reticle that is powered by a battery. The Mil-dot reticle gets front AO adjustment, and it makes sure you at the A-level of your marksmanship.
Always enjoy superior high-resolution and clarity from edge to edge with its premium 50mm objective lens. However, the main reason behind the high-quality view is the multi-coating that ensures proper light transmission with minimal glare and reflection.
When you go through different seasoned shooter's great choices of a sniper scope, one model that you will find in many lists is Sniper MT 4-16X50. Geared with a red and green illuminated Mil-dot reticle, it pampers you with top-notch accuracy and optimum level of brightness almost at all distances it can cover.
It gets a quick reaching button operation so that you properly focus on your long-range target and won't have to struggle with other functions. Many shooters have commended this optic for the smooth shooting experience it offers with the help of auto-off illumination and the last active color memory function.
It gets the standard sniper scope 50mm objective lens, but what sets it apart is the premium level clarity and resolution it has on offer. Having a rich quality view through the scope definitely enhances your accuracy and confidence in acquiring the target.
The lens also flaunts a high-end multi-coating that ensures not only bright images from edge to edge but also make sure glare-free viewing in bright day. The package comes with an effective sunshade that also comes in handy. Whether you want to cover 100yards or 700yards, you can clearly sight your target in most of the ranges, and the praise goes to its mammoth 4-16X magnification range.
Adjustment is one thing that is crucial for every different sniper scope, and MT 4-16X50 is no different. It gets QTA tactical turret, 1/4 MOA click value for wind and elevation, zero resettings, and elevation/windage zero locking facility so you can adjust the optics for achieving the most excellent accuracy possible.
It is one of those optics that can be subjected to any rough condition, and it won't get a crack. It is constructed from top-end aircraft-grade aluminum alloy and designed with a strong Cardan joint that makes it a very strong sniper scope. Fog, shock, or water won't ever damage the scope, and it is due to the nitrogen purging along with the o-ring seal in the body.
Conclusion
With this guide, we have tried to bring you the best sniper scopes that will not only provide a complete long-range setup but will also offer you accurate shots. Here, we have focused more on performance rather than brand names; thus, you are likely to see the most advanced field sniper scopes from big brands.
The scopes we have added like CVLIFE 6-24X50 AOE and Sniper 6-24 X 50mm Mil-Dot carries numerous positive review that you won't even find in popular models. One thing that will impress you most about all the optics in this list is the pricing, which is really affordable.
The build quality and precision you will find in all the optics in our list is simply remarkable, and they won't ever let you down. Every optics has an illuminated reticle; thus, you can easily use them any time of the day, although battery life varies from model to model. The big-size objective lens in models like Feyachi RFS-21 6-24X50mm will really impress you with clarity and vividness. Most importantly, they are light and easy to install, so whether you will use the scope for the first time or the 100th time, it won't matter.